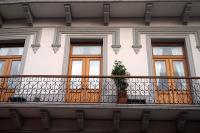 La Concordia
Location
Casco Viejo (Panama City, Panama)
Description
A beautifully restored colonial building, in the popular Santa Ana neighbourhood of Panama City's old quarter. There is a fine-dining restaurant, and a rooftop bar with panoramic views of the city's skyline.
Accommodation
There are 10 luxuriously decorated rooms, over 5 floors, with spacious bathrooms and private terraces.
Our comments
An elegant and stylish hotel with a welcoming and friendly atmosphere.
Client comments and reviews
A lovely hotel with very friendly staff. We really enjoyed the rooftop bar and the breakfast was fantastic. The hotel is in a wonderful location and perfect for exploring the old town. - KH (March 2019)