Follow Dr Jago Cooper, curator of the Americas section in the British museum, on his travels through Central America with the BBC's new four-part series.
Part 1 - Kingdom of the Jaguar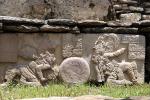 The Maya site of Toniná, Chiapas
In this first episode Jago goes in search of the ancient Olmec civilisation in Southern Mexico.
The Olmec, said to have inspired the Mayans, are the Americas' oldest civilisation who thrived more than 3000 years ago. Jago investigates the rise and fall of this ancient civilisation and on his way encounters colossal stone heads, the oldest rubber balls in the world and descends deep inside an ancient cave network in search of a were-jaguar.
Part 3 - Between Oceans and Empires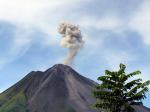 Arenal Volcano
In this third episode Jago travels to Costa Rica to explore the history of the Chiriqui people.
The ancient Chiriqui people built a series of spectacular settlements among the rivers and volcanoes of Central America leaving an enigmatic legacy - including hundreds of giant stone spheres - only now being unravelled. The central volcanoes of Costa Rica, including Arenal and Poas, are still active. At night the glow of the crater can often be seen, as can smoke during the day. They are an impressive sight to behold and the thermal properties of nearby natural pools are restorative.
Part 4 - The Place where Time Began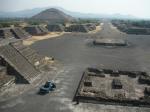 Teotihucan
In the final episode of the series, Jago travels to central Mexico to study Teotihuacan.
Built around 2000 years ago, Teotihuacan was the largest city in the New World for centuries. Its people built some of the most impressive pyramids on Earth and, as Teotihuacan expanded, a vast empire came under its control. Jago reveals what lay behind the power and influence of a city the Aztecs assumed had been built by giants. He reveals how a complex belief system was incorporated into its monumental architecture, and what led to its unprecedented expansion and sudden demise.
Follow in his footsteps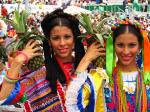 Local women at the Guelaguetza festival, Oaxaca
For a similar trip to Jago's, have a look at our Classic Mexico itinerary starting in Mexico City, journeying through the Chiapas region onto the Yucatan peninsula and ending with a relaxing beach stay. This itinerary takes in many of Mexico's impressive Zapotec, Aztec and Maya ruins and beautiful colonial cites on the way.
For inspiration on travel to Costa Rica, do look at our Classic Costa Rica itinerary. It includes visits to Arenal volcano, the beautiful Monteverde Cloud Forest, and an option to visit the Osa Peninsula famed for its marine life and rainforest.
As always, contact us for your own tailor-made holiday!
Tune in to BBC Four on Mondays in September at 9pm to watch!