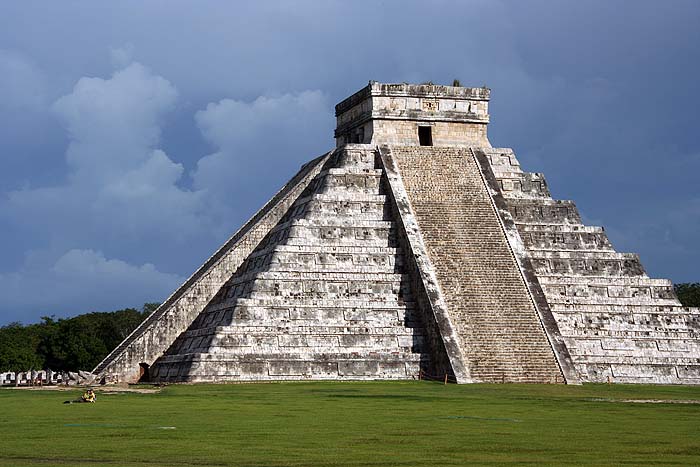 Classic Mexico
colourful colonial cities, ancient Maya ruins and beautiful, white-sand beaches on the Caribbean coast
A 13 day tour of Maya Mexico visiting beautiful cities, remote ruins and the stunning beaches of the Caribbean coast.
To enquire about this itinerary, or one like it, please email us or click the Enquire button.
Itinerary summary
Mexico City
Days 1-2: Arrive in Mexico City and spend two nights in the capital, home to over 20 million people, with many excellent museums, galleries, and markets. A half day city tour takes in the historical centre, including the zócalo (main square), Palacio Nacional, cathedral, Palacio de Bellas Artes and an overview of the Templo Mayor (showing the origins of the city). Outside the city you may like to visit the impressive pre-Aztec ruins of Teotihuacán.
Chiapas Highlands
Days 3-4: Fly to Tuxtla Gutiérrez and take a boat trip into the dramatic Sumidero canyon, whose limestone walls are over 1,000m high. Continue (an hour or so) to San Cristóbal de las Casas where you stay for two nights. Visit the village of San Juan Chamula, whose atmospheric church has pine needles laid on the floor on a weekly basis, while the nave is lit by thousands of candles. Zinacantán, nearby, is also rich in indigenous culture and customs.
Palenque
Days 5-6: A scenic 4-hour drive through fertile valleys takes you east towards Palenque. Stop at the little-visited Maya site of Toniná - with far-reaching views - and again at the pretty waterfalls at Agua Azul. Spend two nights here - plenty of time to explore the partially jungle-shrouded ruins of Palenque, with a local guide.
Mérida
Days 7-8: Driven (2 hours) to Villahermosa and fly to the colonial city of Mérida, on the Yucatán peninsula and famous for its colourful woven hammocks and lively colonnaded squares.
Chichen Itzá
Day 9: Driven east to the beautiful and very grand temples and ball courts of Chichen Itzá, for a night to explore the ruins with a local guide after the crowds have left.
Riviera Maya
Days 10-13: Continue east to the Caribbean coast for three nights to relax on a white sand beach. Nearby is the only Maya site on a coast, Tulúm, and the wildlife sanctuary of Sian Ka'an. Onward flight connections depart from Cancún.
Accommodation options
In the following section you will see our suggested options for possible accommodation.
The estimated flight cost included in this itinerary (assuming international flights from the UK plus any internal flights that are necessary) is £1,000 per person.
Standard - £4,100
Casa Mexicana - a lovely property in the centre with colonial features and a pretty courtyard
Chan-Kah Resort - a rustic lodge ideally situated on the road to the site of Palenque.
Hacienda Chichen - a beautiful 17th century building with lovely gardens, just a short walk from the Chichen Itzá ruins.
Price and validity notes
We have tried to give you as accurate an idea of prices as possible, including meals where appropriate (but not when there are good local options so you don't pay for a meal that you might not want), accommodation, transfers, and any tours we have included.
All prices are per person based on two people sharing a room and are intended as a guide (local high or low seasons can cause some variation). All prices were correct when published but may vary with exchange rate fluctuations, fuel surcharges, or changes in the general economic situation.