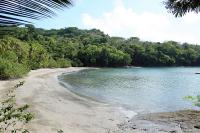 The Pearl Islands are a pretty archipelago of 103 islands off the Pacific coast. There is excellent diving and sport fishing, and humpback whales can be seen from June to October. Coiba Island, the largest in Central America and a former penal colony, is now a national marine park and wildlife haven. Isla Boca Brava, not far from David, is another attraction of this coastline, with varied wildlife and rustic accommodation.
Our preferred accommodation
Beach hotel - Boca Brava Island

A beautiful 'escape' hotel on the virtually uninhabited Boca Brava Island in the Pacific Ocean. The bungalows are set amongst the landscaped gardens and there is a pretty pool with sun-loungers to relax on.