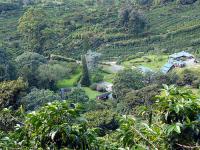 In western Panama, the highlands of Chiriquí have a wonderful spring climate. There are two national Parks -La Amistad and Barú, home to the extinct Barú volcano (the highest point in Panama at 11,300ft, where on a clear day both the Pacific and Caribbean coasts can be seen).
Boquete is the main town, with views over the surrounding coffee plantations and cloud forests, home to extensive birdlife including the elusive quetzal (best chance of seeing one is from November to February). The area is also excellent for rafting, kayaking, golf and riding. Overland connections to Costa Rica are possible.
Our preferred accommodation
City hotel - Boquete

Bright and airy cabañas set in very pretty gardens, this is a good option for clients wanting a bit more independence as each room has its own kitchen area.

Hacienda - Boquete

Set on a coffee plantation, Finca Lerida is a small hotel with fine views of the plantations and hills beyond. The property has remained in the same family for over 100 years. The restaurant serves Panamanian and international cuisine.

Country hotel - Boquete

A lovely hotel full of character, dating back to 1914. The family history is very much in evidence throughout, with evocative photographs and memorabilia of famous visitors from the past. There is an excellent and renowned restaurant.