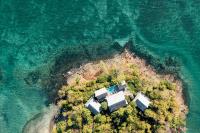 Islas Secas Reserve and Lodge
Location
Gulf of Chiriquí (Pacific Coast, Panama)
Description
A barefoot luxury private island hideaway 20 miles from the mainland and only accessible by boat. The Islas Secas archipelago is made up of 14 islands and this property is on one of them. Only 25% of the archipelago is developed in any way so a stay is very much focussed on nature. The 'Terraza' restaurant, bar and lounge welcomes guests to come together, eat and chat. All meals and drinks are included. The lodge is 100% powered by natural energy and all food and water waste is re-used.
Activities
A stay includes many different guided activities including birdwatching and nature hikes on the property, non-motorised watersports, diving and snorkelling trips and a half-day fishing trip within the Islas Secas archipelago and a day on a private island with picnic lunch. There are daily yoga classes and a 1 hour spa treatment is included per stay.
Accommodation
There are just 4 private sets of villas, divided into 9 individual casitas. These are sympathetically designed to fit with the tropical environment and connect guests to the natural surroundings. Each villa has its own plunge pool and oceanfront deck.
When to go
Whale watching is best between July and October and there are also good chances between December and April.