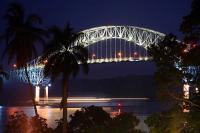 The canal crosses the Continental Divide and links the Pacific and the Caribbean. It can be visited by boat, or viewed from the locks. There are several national parks on either side of the canal, visited by boat or land -the wildlife here shows very little fear of man since the zone was protected (unintentionally, by US occupation) for nearly a hundred years.
Our preferred accommodation
Lodge/Hosteria - Gamboa

An eco-lodge and nature observatory from where you can view the tree canopy from your bedroom.

Country hotel - Gamboa

Large, comfortable resort on the edge of Lake Gatún. Swimming pool, numerous restaurants and a wide variety of activities for all ages.