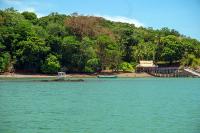 Isla Palenque
Location
Gulf of Chiriquí (Pacific Coast, Panama)
Description
A tranquil 250 hectare private island resort in the Gulf of Chiriquí, with untouched jungle and pristine beaches. There is a restaurant, swimming pool, bar and lounge.
Activities
A variety of walking trails, kayaks, snorkelling stand-up paddle boarding. Boat trips to nearby islands, and for snorkelling can be arranged locally.
Accommodation
There are 8 beachfront casitas, each featuring a king size bed, sofa, outdoor bathroom with free-standing bathtub, and a terrace with a swinging chair and hammock. They have been carefully crafted to blend with their surroundings and offer guests a secluded space, with a clear view of the ocean.
Our comments
The perfect place to escape the hustle and bustle, and unwind.