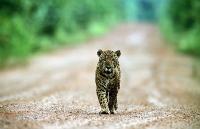 Covering 80% of the country, yet with only 2% of the population, Guyana's rainforest is some of the best-preserved in the world. There is a real chance of seeing wildlife that would be endangered elsewhere, such as jaguar, eight monkey species, armadillos, tapirs and red-rumped agoutis.
In the forest zone the Iwokrama reserve is home to South America's largest fish (the Arapaima), eagle (the harpy) and cat (the jaguar).
Several of the small Amerindian villages are discovering how small-scale tourism can benefit local people and provide a real interchange between cultures, one of the best examples of which is the Makushi community of Surama.
Our preferred accommodation