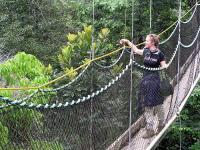 Atta Rainforest Lodge
Location
Iwokrama (The Central forest zone, Guianas)
Description
The Atta lodge is a comfortable lodge within the Iwokrama Forest Reserve, a short walk from the Iwokrama canopy walkway. Surrounded by pristine forest and built in collaboration with local communities using natural materials the lodge features a bar, a sitting area and good local food is served.
Activities
Guided tours into the forest and to the canopy walkway, particularly to watch the birds at dawn and dusk. This is also a key area for jaguar spotting, and night drives are included along the dirt roads that lead to the lodge, from where the majority of jaguars (among other animals) are seen.
Accommodation
There are 8 private and comfortable rooms with mosquito nets over beds. The rooms are quite simple but do the job! Bathrooms are on a shared basis, there are 4 in total and they are quite spacious.