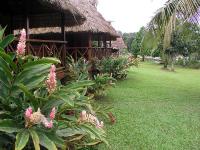 Iwokrama River Lodge
Location
Iwokrama (The Central forest zone, Guianas)
Description
The Iwokrama International Centre for Rain Forest Conservation was formed when the government of Guyana, together with the then Commonwealth Development Corporation, set aside a 370,000 hectare (nearly a million acres) area of almost pristine rainforest for preservation. The name comes from the Makushi word for 'place of refuge', as they fled to these mountains after an invasion from the north by the Caribs. It is hoped that the project will act as an example of how sustainable use can preserve the present biodiversity while also benefiting local communities.
Activities
Tours take you along rivers and into the surrounding rainforest. The reserve is home to South America's largest fish (the Arapaima), eagle (the Harpy) and cat (the Jaguar). Projects include training for forest rangers and guides, tourism, low-impact logging, and aquarium fish harvesting.

At the south-western end of the reserve is a canopy walkway. The dirt road offers good wildlife spotting opportunities and you should keep you eyes open for red-rumped agoutis, red brocket deer, tyra and even the elusive jaguar! The walkway is a series of five platforms suspended from giant trees at heights of up to 33m, connected by 150m of aluminium walkways. Safety is taken seriously (only 5 people on a platform at one time and only one person at a time on the walkways), although those who suffer vertigo will not enjoy the experience.
Accommodation
On the banks of the Essequibo, the research station consists of a large round, main building, with offices on the ground floor and a lovely open area on the first floor where meals are eaten and with a bar and relaxing area. In the gardens are 8 screened guest cabins with 2-3 beds in each and private bathrooms (cold water only, bottled water provided). There are mosquito nets over the beds, which should be used (mosquitoes and sand flies can be a nuisance).
Our comments
A fascinating spot, although it does suffer from the erratic funding that goes with government projects.
Client comments and reviews
In Guyana, our first stop was Iwokrama. The accommodation was really lovely here and we enjoyed our stay, although we didn't see that much in the way of wildlife, mainly because it rained almost constantly. But we did see a jaguar on the way out! - ML (February 2009)
The staff at the Lodge were very knowledgable and enthusiastic. Our excursion to the Canopy Walkway was spectacular. We were sceptical whether we could climb the steep steps, but taking it slowly and with help, we made it to the top and the views were terrific, well worth the effort. - PC (March 2008)