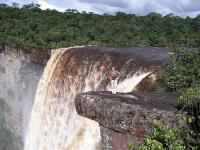 The coastal belt is a narrow strip up to 40 miles wide, much of which is below sea level. 90% of the population lives here and the main crop is sugar cane, used both for sugar production (the Demerara process originated in Guyana) and rum. The Dutch settlers built the first dams and dykes so that they could take advantage of the rich alluvial soils.
The Kaieteur and Orinduik falls, the former with an awesome 741 foot single drop, while the latter, on the border with Brazil, tumbles over pure jasper.
Georgetown, the capital, is a pleasant city of mainly wooden buildings and tree-lined streets on the edge of the Demerara river. St George's Cathedral is one of the tallest wooden building in the world (the previous stone one was too heavy for its foundations). The city is also proud to have the longest floating pontoon bridge in the world (2km). As Georgetown is 2 metres below the high tide level, an elaborate system of sluice gates has been built to protect the city from flooding.
Our preferred accommodation
Beach hotel - Bagarana Island, Essequibo

Comfortable resort hotel on the edge of the river with a man-made beach. The resort has its own airstrip (the hotel is owned by an airline) so access from the interior is good. They have a boat for excursions on the river and large gardens.

City hotel - Georgetown

A lovely old wooden colonial building, originally a family home, with lots of character, an internal courtyard, a bar and restaurant.

City hotel - Georgetown

Large international hotel and the most comfortable hotel in the city, with good facilities. There is a nice pool area and 2 restaurants.