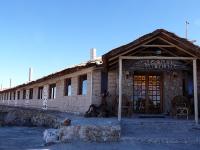 Luna Salada
Location
Salt flats (Salar de Uyuni and the southern deserts, Bolivia)
Description
Just on the edge of the Uyuni salt flats and 7km from Colchani. The main structure of the hotel is built entirely from blocks of salt, but the roof is thatched and the corridors have salt gravel too.
Accommodation
There are just over twenty small rooms with warm bedding, private bathrooms and hot water. The restaurant has beautiful views of the desert and serves good food. There are plenty of small sitting areas to enjoy the view and fires are lit in the evening. There is also a shop, games room and money exchange.
When to go
Year round except for January-March. The very best time is June and July.
Client comments and reviews
The Hotel Luna Salada was very good. It was extremely comfortable (and warm!!). - SH (September 2018)
I don't need to tell you that the Uyuni salt flats were unbelievable and the Hotel Luna Salada - what a great location! Another time we would have stayed another day just to relax in the hotel! - DH (June 2013)