A wonderful seven day hike operated by Mountain Lodges of Peru - a fascinating alternative to the traditional Inca Trail, arriving to Machu Picchu via the Llactapata Inca Trail.
Pre-departure day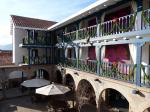 Hotel El Mercado
A minimum of two nights is recommended in Cusco prior to the trek to help with acclimatisation. A trip briefing with the guide and fellow hikers is held at the hotel in Cusco the evening before departure and duffel bags, for packing all personal equipment for the trek, will be distributed at this time. Hikers will only need to carry a day pack.
Day 1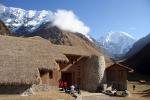 Soray Lodge
Depart Cusco early and driven north-west on the Lima road. Stops will be made at Quillarumiyoc archaeological site and the mountain village of Mollepata, before arriving to Challacancha to start walking. Hike along a picturesque path called the Camino Real, Royal Path, which follows an irrigation channel to Soraypampa.
Distance: 6km | Hiking time: 3 hours | Ascent: 786m | Descent: 492m | Accommodation: Soray (Salkantay) Lodge
Day 2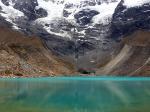 Glacier lake below Humantay
A free day allows one to take a practice hike up to a stunning turquoise coloured glacier lake below Humantay, 4,221m, or go for a ride in the surrounding countryside.
Distance: 6km (optional) | Hiking time: 4 hours | Ascent: 435m | Descent: 435m | Accommodation: Soray Lodge
Day 3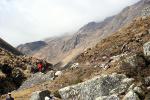 Trail to Salkantay pass
This is the toughest day of the trek, but rewarding, as one begins with a 2 hour gentle climb up the Rio Blanco valley, circling Humantay Peak. Gradually climbing up mountain trails, encounter expansive plateaus dotted with boulders of varying sizes, the remnants of a valley that was once bisected by a fast-flowing river. The final and most challenging part of the ascent is conquering the mountain switchbacks to the Salkantay pass at 4,638m. From here a long descent leads down through rolling hills and across marsh-like plateaus to Wayraccmachay.
Distance: 11.5km | Hiking time: 7 hours | Ascent: 801m | Descent: 754m | Accommodation: Wayra Lodge
Day 4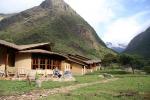 Colpa Lodge
A 3 hour descent takes one along the banks of the Salkantay river, through increasingly verdant scenery, and past simple homes to the lodge at the meeting of three rivers.
Distance: 8.5km | Hiking time: 4 hours | Ascent: 0m | Descent: 1,063m | Accommodation: Colpa Lodge
Day 5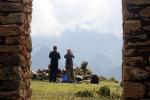 Views from Llactapata
Gently descend along the Santa Teresa river valley, passing hot springs, into more tropical vegetation and through fruit orchards. After 4-5 hours, and a stop for a leisurely lunch, the trail arrives at an unpaved road where a van will be waiting to meet the group for a 45 minute journey to the start of the Llactapata Inca Trail. Follow beautifully crafted steps along the trail for about 30 minutes to the lodge.
Distance: 16km | Hiking time: 6 hours | Ascent: 285m | Descent: 1,021m | Accommodation: Lucma Lodge
Day 6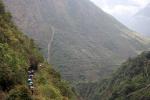 Heading down the valley
The Llactapata trail climbs steadily up original Inca steps, through the rainforest, for about 3 hours. On arrival at the ruins of Llactapata, and the Llactapata pass at 2,736m, the spectacular views across a wide valley give the first views of Machu Picchu. The final descent leads down through lush bamboo forests to the hydro-electric station. Board the train for the 1 hour journey to the town of Aguas Calientes, at the base of Machu Picchu.
Distance: 10km | Hiking time: 5 hours | Ascent: 719m | Descent: 1,053m | Accommodation: Inkaterra Machu Picchu Hotel
Day 7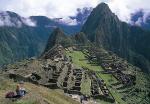 Machu Picchu
At dawn take the bus up the switchback road to the enigmatic ruins of Machu Picchu for a guided tour of the iconic Inca site, and possible hike up Huayna Picchu. After lunch in Aguas Calientes board the Vistadome train to Ollantaytambo or Poroy station, and continue by vehicle back to Cusco.
Distance hiked: 2-4km (3 hours) | Ascent: 200m | Descent: 200m | Accommodation: Hotel in Cusco
A unique trek to Machu Picchu passing through a remote and unspoilt region of Peru with first class hospitality and a comfortable bed each night. This is a group trek with set departure dates and operates with a minimum of 2 and maximum of 12 hikers. Private departures can also be organised.
Follow this link for alternative trekking options in Peru Walking in Peru