A small selection of some of the alternative, but equally as impressive, treks in Peru.
The Cordillera Blanca - Llanganuco Santa Cruz trek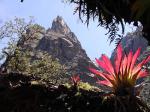 Bromeliad in the Huascarán National Park
The Cordillera Blanca in the heart of the Andes, about a 7 hour journey by road north from Lima, is one of South America's most beautiful mountain ranges and a huge attraction to both climbers and hikers. Protected by the Huascarán National Park it encompasses many of the highest peaks of the Andes, some over 6,000m, with dramatic views of towering peaks, precipitous gorges, hundreds of colourful lakes and abundant wildlife. A range of different walks in the region, including the popular Olleros to Chavín hike, longer itineraries to Alpamayo and circuits in the even more remote and stunning Cordillera Huayhuash can all be organised.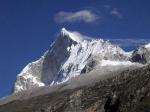 Snow on Mount Huascarán
The Llanganuco - Santa Cruz 5 day trek, from Huaraz, is a spectacular 62km ecologically diverse circuit hike in the northern part of the Cordillera Blanca. It passes through three valleys Santa Cruz, Huaripampa and Llanganuco, crosses two high passes above 4,700m and beneath dozens of ice-capped peaks. Hike past glacial lakes with striking colours, through areas of high tropical flora and fauna (particularly birds), archaeological remains and Andean villages.
Distance hiked: 62km (5-7 hours per day) | Accommodation: Camping | Maximum altitude: 4,780m | Maximum daily ascent: 860m | Maximum daily descent: 900m
Choquequirao - a preserved Inca Outpost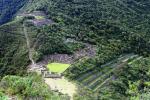 Inca site of Choquequirao
Choquequirao, similar in structure and architecture to Machu Picchu, is an immpresive Inca site situated on a promontory set at 3,050m above the Apurimac river in the Vilcabamba range. Only accessible on foot the site covers 6 square km, receives a minimal number of visitors and has no time limit on how long one can stay inside the site, unlike Machu Picchu.
Stone llamas at Choquequirao
The last campsite, before returning by the same route, is just below the ruins which are buildings and terraces above and below Sunch'u Pata, a truncated hill top. The main structures are concentrated around two plazas along the crest of the ridge, they encompass about 2 square km and a whole day is allowed for exploring the site.
Distance hiked: 60km (ranging from 5-21km, 5-9 hours per day) | Accommodation: Camping; Maximum altitude: 3,050m | Maximum daily ascent: 1,500m | Maximum daily decsent: 1,600m.
Ausangate Trek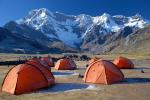 Camping under Ausangate
Dominating the Cusco Valley snow capped Ausangate stands at almost 6,400m. The 5 day high altitude trek to the camp below Ausangate takes one through some stunning mountain landscapes, over high passes up to 5,200m, past sparkling turquoise lakes and glaciers, and through a remote region, home to friendly alpaca and llama herders.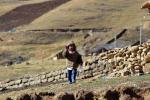 Local boy near Ausangate
Starting in Tinqui, a 3 hour journey by road from Cusco, the first day involves gradually climbing across open puna and through highland meadows to camp beside hot springs. The following days are challenging, but rewarding, as you hike through diverse landscapes, past moon-like rock formations, waterfalls and glacial lakes, and climb over four high mountain passes, including the Campa pass at 5,050m.
Distance hiked: 56km (10-15 km, 4-7 hours per day) | Accommodation: Camping | Maximum altitude: 5,050m | Maximum daily ascent: 600m | Maximum daily descent: 690m
A minimum of two nights is recommended in either Cusco or Huaraz prior to any trek in Peru to help with acclimatisation, and a trip briefing will be held the evening before departure. All camping and equipment (tents, sleeping mats etc.) are provided and sleeping bags can be hired. All cooking equipment, camping equipment and luggage is carried by either porters, llamas or mules.
Follow this link to explore alternative trekking options in Peru: Walking in Peru