As one of the smallest countries in South America, I was not really sure what to expect from my trip to Uruguay. Compared to its neighbours Brazil and Argentina, little is heard about it this side of the Atlantic. I was pleasantly surprised to see that the tourist industry is thriving and the Uruguayan people are whole heartedly behind it. Their passion for good food, wine and art and their patriotic nature are two key things that makes this little corner of South America so special.
Colonia and the south-west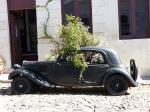 Relaxed parking restrictions
My trip began in the small town of Colonia de Sacramento. It takes less than an hour to get here on the ferry from the port in Buenos Aires, making it a popular destination for Argentines. Like Buenos Aires, it sits on the banks of the River Plate but unlike BA it plays host to a number of quiet river beaches. The historic quarter stretches only four or five blocks and is made up of cobbled streets, quirky little cafés and small museums and is great for enjoying a leisurely day sipping coffee and soaking up the culture. From Colonia, I travelled west to visit the Four Seasons Carmelo, a beautiful hotel set amongst the pine trees and dunes of the river. There is a large pool, private beach and excellent spa facilities making it a great place to unwind and relax. East of Colonia I stumbled across a real gem, in the form of a converted estancia in the heart of the countryside called La Vigna. Focusing on a natural and organic lifestyle, home cooked food and a multitude of activities, La Vigna is the sort of place you would plan to stay a few nights and end up staying a week.
Montevideo and the Central Region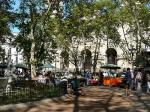 A small square
Montevideo and Colonia are approximately two hours' drive apart and the roads are generally of a high standard, making a self-drive option quite appealing. The capital is home to over a third of the country's population but is still only one tenth the size of London. This gives the city an intimate, friendly atmosphere. I visited the stunning Solis Theatre and our tour was frequently interrupted by a small group of very enthusiastic and noisy actors popping up from various locations. It is an integral part of the city's culture and is sold out most nights. The Port Market is a great place to have lunch, but be warned that the parilla comes with cuts of meat that you would not find on a British barbeque such as lung, intestine and heart. The newer part of the city has some excellent restaurants and cocktail bars whereas the old town maintains tradition and has some interesting architecture. I was fortunate enough to be taking on a tour of Juanico, about an hour out of the city and one of Uruguay's largest wineries. The local wine, tannat, is the most well known from Uruguay and extremely tasty.
Punta del Este and La Barra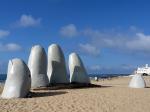 Art in Punta del Este
Another two hours' drive east along the coast lies Punta del Este, Uruguay's moat popular beach destination. Punta is at its busiest in the summer months when Brazilians, Argentines and Uruguayans alike flock to the coast to spend their days lying on the beach and enjoying the weather. As I was there in low season, I got to see a slightly different side of the seaside town. Just ten minutes from the main beach at Punta Ballena, lies the home of world famous artist, Carlos Páez Vilaró. It is named casapueblo, literally translated as house village, spans the cliff-side, and is a piece of art in itself. With an art gallery, restaurant and hotel it is well worth visiting. I also made a visit to the Ralli Museum which is home to a large collection of miniatures by Salvador Dali as well as a good number of pieces by South American artists. The museum is free and is open all year round. A short drive away is the town of La Barra where the most fashionable beaches are found along with a host of quirky shops and popular night spots.
José Ignacio and Rocha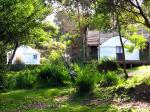 Yurts in the trees
The town of José Ignacio is a little over an hour's drive northeast of Punta del Este. The town itself is quite small but has an air of exclusivity about it. I was treated to lunch at a coastal restaurant called La Huella, where the sand from the dunes spills onto the floor and the fish practically jump out of the sea and into the pan. The owner, reminiscient of an ageing Basil Fawlty, displayed exceptional hospitality and warmth and the food was outstanding. Just down the road on the other side of the peninsula is the hotel Playa Vik. This recently opened hotel comprises of rooms uniquely designed by local artists and is a spectacle in itself, offering something new and of incomparable quality on the Uruguayan coast. For a slightly more rustic experience, Rocha offers numerous beach options as well as a variety of water sports and riding. I stayed at Pueblo Barrancas, Uruguay's first glamping site. Here you have the option to stay in a cabin, yurt or military tent. The concept is to work with nature and not against it, each tent or cabin is raised off the ground to let the flora and fauna thrive in and around each structure. Set amongst the trees and dunes, all of the accommodation is very private and the beach is two minutes walk from your door. A perfect place to relax and take things a little slower.
The drive back to Montevideo allowed me to take stock of how much diversity can be packed into a relatively small country. Uruguay is perfect for hiring a car and allowing opportunities to come your way as you travel. There is something about Uruguay that is distinctly charming, the locals often joke that if you meet a Uruguayan in another country, chances are that you have friends in common. This closeness of community and the top level hospitality is found in few places in the world and is not to be missed.