Hidden away in a remote and lush corner of Costa Rica lies the Osa Peninsula, 'the most biologically intense place on earth,' according to National Geographic. In a country famed for its wildlife, this region has, rather surprisingly, remained relatively quiet on the tourism front. It was for this reason (and because I've always dreamt of living in the rainforest by the sea) that I was so excited to be jetting off alone, in a tiny 12 seater flying machine, to what sounded like absolute paradise.
Up up and away! The Journey to Golfo Dulce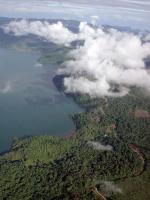 Osa
Having just finished a dedicated Nature and Birdwatching trip around mainland Costa Rica, I parted company with my fellow travellers and headed solo to San Jose's domestic airport. Upon arrival at a small warehouse-like building, I headed to the check-in desk where I was surprised to be put on the scales and weighed, along with my luggage, before being ushered through to the waiting room next door. My name was shortly called and as I left the building to walk to the plane, I could see why my weight may need to be checked: the propeller jet was tiny and quite a sqeeze to get in!
Despite feeling like a sardine in a tin can, the flight itself was spectacular and I was pleased to have perfectly sunny and clear skies which afforded the most wonderful view of the greenest and most pleasant land I have ever seen (sorry England!).
Playa Cativo Lodge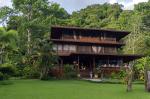 Playa Cativo
Arriving in Golfito on a short strip of tarmac shrouded by rainforest, I was met by Allan, manager of Playa Cativo Lodge - a small, luxurious but laid-back retreat found nestled amidst the Piedras Blancas National Park.
Its remote location meant that from the airstrip we had a short drive to the town's marina where a private boat was ready and waiting to zip 45 minutes across the Golfo Dulce bay. Dolphins dived alongside us until we pulled up at the water's palm-fringed edge and a beautiful wooden building came into view.
Upon setting foot on dry land, I decided instantly that I had found my lost paradise! Surrounded by lush tropical gardens and unidentifiable fruit trees, Playa Cativo houses seven beautiful, spacious and uniquely decorated rooms. An eighth can be found in the grounds in the form of a bungalow which would be perfect for honeymooners looking for a more private stay. Activities-wise, Playa Cativo caters to all - for the more active there is paddle boarding, kayaking, snorkelling and hiking, whilst for those looking for a more relaxing stay there is whale and dolphin watching, an off-grid Alternative Energy tour, nocturnal rainforest walks, yoga, massages and a tour of the lodge's farm which is working to produce as much home-grown food as possible. And what feasts meal times were! The unusual flavour combinations, cooked to perfection were the best I experienced throughout the trip.
What really made my stay so enjoyable however, were the wonderfully warm and welcoming staff who pattered about bare-foot and encouraged you to treat the place as your own home. If you want to seriously kick back, relax and enjoy life - I couldn't recommend Playa Cativo more highly.
Lapa Rios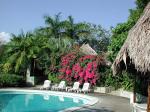 Lapa Rios pool
Having travelled across the bay by boat to the port town of Puerto Jimenez on the Osa Peninsula, I thought no other hotel, not even the infamous Lapa Rios, was ever going to compete with my blissful stay at Playa Cativo. But I was wrong.
Lapa Rios was a very different, but an equally special place to explore. With 17 individual casitas perched sporadically upon a steep jungle-clad mountain, the size of the resort was larger, but no less intimate in feel. In fact, I was left in awe of the level of attention to detail: little surprises such as coming back from dinner to find my room lit up with candles brought a huge smile to my face, as did waking up and finding a thermos of hot chocolate outside my door first thing in the morning.
And although I preferred the unique décor at Cativo, I did relish and make good use of having my own spacious and private outdoor wooden deck which came furnished with a hammock, table and chairs, drying rack for damp clothes, spectacular views of the ocean and my own little garden with outdoor shower. I also had a visit from a friendly coati which came to demolish a papaya growing from the tree on my deck which was a bonus!
Beyond the service and rooms though, the highlight of staying at Lapa Rios is the sheer amount of wildlife you cannot fail to see. Despite having far less time here than anywhere else, in under 24 hours I spotted scarlet macaws, spider monkeys, toucans, numerous lizards, an armadillo and a baby boa.. all unguided and seen extremely up-close. For the amateur and expert wildlife watcher alike, Lapa Rios is certain to delight.
El Remanso Lodge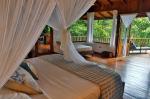 El Remanso
Also on the Osa Peninsula and a short 15 minute drive away from Lapa Rios, lies El Remanso lodge. I sadly had no time to stay here but was given a thorough tour of the property by Adriane, the lodge's wonderfully warm and welcoming Spanish owner who lives on the property with her young daughter and husband.
For those looking for a reasonably priced, wildlife-rich, ecological rainforest stay, El Remanso is hard to beat. With 12 different rooms and 35 staff you will receive a very high level of personalised service from their enitrely local staff.
Built in a 185 acre private reserve, 85% of the area is primary forest which makes it fantastic for wildlife and a great place to hike, birdwatch, zipline or tree climb. Other activities possible include surfing, riding, kayaking, waterfall rappelling and dolphin watching. Additionally there is both a swimming pool and a nearby beach with rock pools that are safe to swim in (during low tide only).
The main building, which houses the restaurant, bar, tour desk and book exchange, is made from bamboo and built above the forest canyon which gives great views out to the ocean.
After a non-alcoholic (alas) cocktail with Adriane, it was onwards and upwards through the peninsula on a 4.5 hour drive north to Manuel Antonio where I stayed the night before saying a fond farewell to this slice of paradise and returning home to England's equally green (but not so sunny) land.