Mountain Lodges of Peru have created a brand new five day flexible walking itinerary, based on the classic Lares Trek in the Urubamba Valley, in the Sacred Valley of the Incas. The trek can be adapted to suit your fitness level and can be extended to include extra hikes or more leisurely days if required.
Walk ancient Inca paths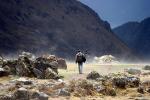 The mist rises from the rocks
The Lares region, previously the preserve of campers, can now be walked in comfort as guests can spend each night in Mountain Lodges of Peru's new lodges; Lamay and Huacawasi. The lodges are charming, small, beautifully made from local materials and most importantly have comfortable beds, perfect after a day's hiking. Following parts of the classic Lares trek, this lesser-trodden route follows the old Inca path to Huchuy Qosqo and on through the Lares Pass, visiting superb artisan villages along the way.
Traditional Peruvian life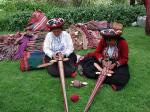 Women weaving
The rural atmosphere, traditional weaving and roving herds of alpacas and llamas are notable features of the Lares region. This trek offers good opportunities to see important archaeological sites, visit local communities and learn about the their cultures, such as the Huacawasi community who still wear beautiful, traditional clothing and farm as they have done for centuries. The trek ends with a train ride to Machu Picchu for a visit to the iconic citadel, all accompanied by expert guides.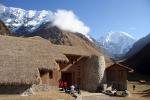 Soray Lodge with views to Salkantay