Last September, 12 years since my first trip to Guatemala, I returned for the opportunity to revisit hotels, meet with local agents and receive an update on the country's recent happenings. I began my journey in Guatemala City, ventured on to Antigua, then Lake Atitlan and wound up at the wonder of Tikal.
As over a decade had elapsed since my last visit, I wondered, would much have changed? Had this mysterious, diverse and incredibly culturally rich country been besieged by tourists? Would it have lost all its traditions?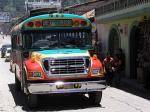 Local 'chicken' bus
I am happy to report that it hasn't. You can still wander through lost Maya worlds without a selfie stick in sight and despite the widespread availability of cheap Chinese imports, hand-woven and heavily embroidered dress is still the preferred attire of many Guatemalans. Time really does appear to have stood still in this colourful country which is why, as the Luddite I am, I love it so much.
Antigua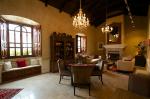 San Rafael boutique hotel
Of course, I do appreciate the odd change, such as a new boutique hotel opening - especially if it is done as tastefully as the San Rafael which I went to visit in the pretty colonial city of Antigua. Just one block from the main plaza and around the corner from the iconic Santa Catalina Arch, this 7 bed, 100 year old home has undergone a three year restoration project to have its antique tile roofs, courtyards, fountains and patio restored to their former glory. It really was beautiful and if I return for a third visit, it is certainly where I'd choose to lay my head.
Tikal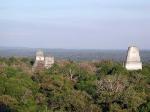 Tikal
Another welcome discovery was to see that a proper staircase has finally been built up the side of Temple IV at Tikal National Park - on my last visit I had to scale a wobbly vertical ladder and haul myself the rest of the way up by rope. Whilst this did make me feel very Indiana Jones, I'm sure it caused several casualties and broke all sorts of health and safety regulations. These days however, I'd urge any able body to make this climb as the views from the top are mind-blowing; lush jungle for as far as the eye can see with only the odd 400–300 BC temple peeping through the canopy. Only one other site has ever rivalled it for me - and that was Cambodia's Ankor Wat.
Lake Atitlan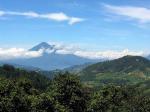 Lake Atitlan
Another spot well worth exploring is Lago Atitlan, a 125 sq km picturesque lake surrounded by volcanoes and bordered by 13 different villages, each with their own personality. Whilst the lake is perennially popular with travellers, you tend to find most people head to Panajachel or San Pedro, so my advice is to head for the less visited town of Santiago de Atitlan, which I admit, does look like a concrete jungle as you approach by boat but is a diamond in the rough. Santiago remains a very local affair with a mostly indigenous population, so if you are looking to experience the real Guatemala, I'd highly recommend stopping here.
There are so many wonderful sights and experiences to be enjoyed throughout the country; it is hard to know where to begin. With one week you can see the highlights mentioned above but with two, you will be able to get off the beaten track and really begin to explore in more depth. It also makes a wonderful destination to combine with Mexico, Belize, Honduras and El Salvador - or all of them of you have the time!
Do give us a call on 01296 653000 if you are interested in visiting this fascinating region - we would love to hear your thoughts and chat through the endless possibilities! Or you could have a look at our Guatemala sample itineraries: