At the top of many travellers' hit lists of Latin America, Peru has much to recommend itself - yet I had never made it there. Thankfully, I was able to rectify this in November when I was offered the opportunity to spend a week visiting Peru's highlights. To my delight, I found it to be everything I had expected and more!
Lima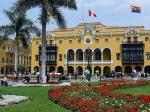 Central Lima
My first destination, as is most people's on their arrival into Peru, was its capital city, Lima. Often overshadowed by the more famous of Peru's sights, I didn't have very high expectations of the city, but was pleasantly surprised!
We were staying in the Miraflores district, a quiet, leafy neighbourhood overlooking the Pacific Ocean with ample opportunities for coastal walks and bike rides. A short stroll down the coast is Lima's bohemian district of Barranco, awash with restaurants, galleries, museums, cafés and bars. After exploring a few of the area's best galleries and museums, we headed to one of its swankiest restaurants, Lima 27, for ceviche and what was to be the first of many Pisco sours!
Inca and pre-inca sites are plentiful throughout Peru and in and around Lima is no exception. Huaca Pucllana is a great adobe and clay pyramid in urban Lima thought to date back to the Wari culture. At night, the pyramid is illuminated and the on-site restaurant serves traditional Peruvian cuisine overlooking the site. A lovely first evening in Peru.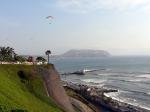 Paragliders
Lima's old town is a UNESCO world heritage site and a walking tour is a great way to appreciate it. The various styles of architecture give you a feel for the city's history and there are many impressive buildings, museums and churches to explore.
My favourite of these was the Larco museum, housed in an 18th century mansion built on top of a 7th century pyramid. The museum's galleries are filled with pre-Colombian artefacts offering a real insight into Peru's ancient cultures. We visited at night and after our fascinating tour were treated to another excellent Peruvian dinner, this time overlooking the museum's beautiful gardens.
The Sacred Valley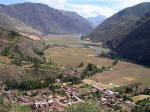 View over the Valley
Our next destination was the 'Sacred Valley of the Incas', north-west of Cusco with picturesque villages, local markets and ruins framed by towering peaks.
After a short, scenic flight to Cusco and a 1½ hour drive, we arrived at the luxurious, Belmond owned, Hotel Rio Sagrado in Urubamba. This was my favourite hotel of the trip, with beautiful gardens and each room overlooking the Urubamba river, it was a great place to relax and the restaurant was fantastic. Well-placed for day trips to many of the valley's attractions, we spent two enjoyable days here.
Our first taste of these attractions was a visit to the ruins of Ollantaytambo, just a short drive from the hotel. Originally these terraces were built for agricultural and religious purposes, but during the final battle of the Spanish conquest they doubled as a fortress for the last Inca emperor.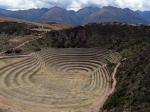 The Inca terraces of Moray
A visit to the salt pans of Maras is well worth it, with the opportunity to see several hundred small terraced pools cascading down the hillside, being worked by members of the local community in the same way as they have been since pre-Inca times.
The little visited and fascinating terraces of Moray make for another worthy excursion. Thought to be an Inca agricultural laboratory, stone concentric circular terraces have been constructed in three large natural depressions in the landscape. With the majestic Andes as a backdrop, this is one of the most visually stunning Inca sites. There are many activities on offer in the Sacred Valley including some amazing hiking, adventure activities, local markets and Inca ruins. For me two days was just not sufficient as I really loved the Sacred Valley and couldn't recommend it enough!
Machu Picchu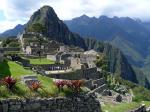 Machu Picchu
A highlight of any trip to Peru, if not South America, my expectations were set very high for our visit to this iconic Inca citadel. A scenic train ride to Aguas Calientes, before a short (and slightly hairy!) bus journey up the side of a mountain delivered us to the entrance to the site. With clear blue skies and the sun streaming down, our guide led us in for our first glimpse of Machu Picchu. It was breathtaking - no photograph can capture the scale, beauty and awareness of what an amazing feat of engineering it really is. It more than lived up to my expectations and we spent a fascinating few hours exploring the site and its many different areas and viewpoints. After a delicious lunch at Belmond's Sanctuary Lodge, the only hotel close to the ruins, we headed back down to Aguas Calientes for a wander around the local markets before boarding the Hiram Bingham train for the three-hour journey to Cusco. This exclusive and luxury train ride was the perfect end to an amazing day - a gourmet dinner complete with matched wines, enjoyable on-board entertainment and of course, as many Pisco sours as you can drink! Highly recommended!
Cusco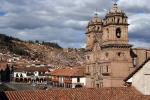 View over the city of Cusco
Once the capital of the mighty Inca empire, Cusco is well worth a few days in its own right. Narrow cobbled alleyways open out onto grand plazas with red-tiled rooftops sprawling out into the mountains beyond. The city's main attractions are easily walkable and this is the most pleasant way to see them, gazing at the fusion of ancient and modern architecture along the way. Just a short drive away is the fortress of Sacsayhuaman, built using huge stone blocks in a zigzag design spanning 600m over the plateau. It was impossible not be impressed by the scale, dwarfing us as we stood next to the walls. Its position above the city also affords beautiful views over Cusco below.
My trip afforded me only a glimpse of what Peru has to offer, with so much to see a week is never enough. Peru really does have something for everyone - with so much culture, history, spectacular scenery and activities on offer, I can't wait to go back!