Brazil is such a vast, vibrant and diverse country, and the eclectic cuisine certainly matches this. It varies greatly between regions, from the indigenous flavours of the Amazon to the African influences in the north-east. Here is a collection of Last Frontiers' tried and tested Brazilian favourites.
Caipirinha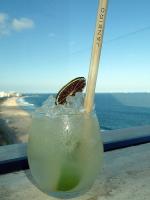 Overlooking Rio de Janiero with a caipirinha
Brazil's national cocktail, the caipirinha, is perfect for a sunny afternoon in the garden. If you don't have any cachaça (also know as pinga, a white cane spirit) I'd recommend buying some, or you could change the spirit and make caipiroskas or caipiríssima (with either vodka or rum). You could even be really radical and attempt a sakeirinha, which is made with sake, with strawberries instead of limes!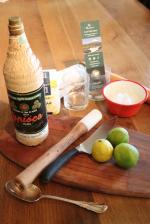 Ingredients: Makes 1 caipirinha

1-1½ ripe limes
1 tbsp sugar (ideally caster as it dissolves more easily)
Ice
Cachaça (Brazilian cane spirit), to taste
Instructions:
1. Cut the limes into quarters and put them into a glass with 1 tablespoon of sugar.
2. Crush and mix together using the end of a wooden spoon (or a fancy lime masher) to squeeze the lime juice out.
3. Wrap a handful of ice in an old tea towel and smash it using a rolling pin (or use the crushed ice function on a fancy fridge-freezer!)
4. Fill the glass to the brim with crushed ice and pour in as much cachaça as will fit! Stir well and enjoy.
P.S. Resist the temptation to have more than two.. on a work night at least!
Feijćo, or black beans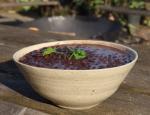 Each region in Brazil has a different speciality or customary dish, but there is one dish that remains constant wherever you go, and that is feijão. This delicious and indulgent dish is a definite crowd-pleaser! In the rest of Latin America black beans are often used (caraotas negras in Spanish), but Brazil prefers the brown version that it calls feijão.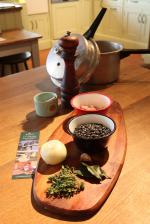 Ingredients:
250g black 'turtle' beans (brown beans for feijão)
3 rashers of bacon
1 onion
3 cloves garlic
2 bay leaves
a bunch of thyme or oregano
4 tbsp vegetable oil
Instructions:
1. Rinse the beans, removing any spoiled ones and add them to the pressure cooker, along with 4 cups of water. Cook until soft (40-50 minutes, may need to add more water). If you don't have access to a pressure cooker, then soak beans overnight before simmering until soft.
2. Chop the bacon and begin to fry in plenty of oil. Meanwhile, chop the garlic and onion and add to the pan, frying until soft and then set aside.
3. When the beans are ready, deglaze the frying pan using some excess juice from beans and add everything to the beans, with bay leaves and thyme (tied in a bunch for easy removal).
4. Simmer for 30 minutes, season with salt and pepper and serve.
Tips:
Don't add salt until the end, the beans will just absorb it.
Most beans are poisonous, make sure to respect the minimum times above or you might get very ill
Any uneaten beans can be frozen, or kept in the fridge for 2-3 days (maximum, or they will ferment and make you very ill)
Pćo de Quejo (Brazilian cheese bread)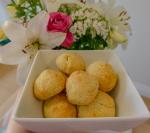 Any recipe that combines the two staple favourites all over the world, cheese and bread (gluten-free), is sure to be a success! Crispy on the outside and soft and chewy on the inside, this moreish snack is found on almost every street corner and can be enjoyed at any time of day.
Ingredients: Makes 8-10 pão de quejos

125g cheese
125g polvilho azedo, also known as sour cassava or tapioca flour
1 egg
125g cheese
35ml milk
18ml vegetable oil
Instructions:
1. Preheat the oven to 200°C.
2. Measure 125g of tapioca or cassava flour into a mixing bowl and add a pinch of salt. Beat 1 egg and add it to the mixture, stirring until combined.
3. Grate 125g of cheese and add it to the bowl, along with the flour and egg. Stir again until it forms a crumb-like mixture and set aside.
4. Meanwhile, add 35ml of milk and 18ml of vegetable oil to the saucepan and bring to the boil. Once boiling, add to the bowl with the flour, egg and cheese and mix again until combined.
5. Form into balls (using about 2 tablespoons per ball) and place on a pre-oiled baking tray.
6. Bake in the oven for 25-30 minutes.
P.S. Be prepared to eat the whole batch in one go. When I said this was a moreish snack, I really meant it!
Brigadeiro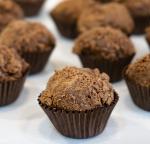 Brigadeiro is Brazil's version of a chocolate truffle. They are so simple to make and are traditionally made with a coating of chocolate sprinkles. There is an oppportunity to get creative here though, and roll these tasty treats in alterntive toppings such as grated chocolate, cocoa powder, shredded coconut or finely chopped nuts to name a few.
Ingredients: Makes 15-20

2 tbsp butter
1 can condensed milk
1.5 tbsp cocoa powder or 3 tbsp chocolate powder
Chocolate sprinkles/ shavings
Instructions:
1. Add 2 tablespoons of butter to a saucepan, along with 1 can of condensed milk and 1.5 tablespoons of cocoa powder (add 3 tablespoons if using chocolate powder).
2. Simmer on a medium heat, stirring the sticky mixture continuously. When it no longer sticks to the pan, remove from the heat and leave to cool.
3. Meanwhile, spread some grated chocolate or chocolate sprinkles on a chopping board, ready for the next stage.
4. Once the fudge-like mixture is cool enough to touch, add some butter to your hands and form the brigadeiro into balls (about 1 tablespoon per ball) before rolling it in grated chocolate until coated. Serve in mini cake cases.