My favourite country in Latin America is Brazil, there is still so much of it I am yet to explore. The north-east region is such a contrast to the south that it almost feels like a different country - with its own unique culture, food and history it had long been on my list of places to visit and so I was thrilled when Claire and I were given the opportunity to go in May.
Salvador do Bahia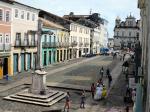 The Pelourinho - Salvador's historic centre.
Bahia state, on Brazil's north-east coast is one of the largest and most populous states in Brazil, and arguably the most beautiful. With more than 900km of coastline, stunning, deserted beaches stretch for miles alongside the warm waters of the Atlantic Ocean. But it's not just beaches Bahia has to offer - the area has UNESCO heritage sites, world-class diving and snorkelling, traditional coastal towns, idyllic tropical islands and stunning National Parks.
Salvador is Bahia's capital and one of the oldest colonial cities in the Americas. It occupies a beautiful setting, built on high ground on a peninsula overlooking All Saints Bay (the second largest bay in the world), surrounded by beaches. The historic centre, known as the Pelourinho, is an enchanting and colourful mix of 17th century Portuguese architecture and gold-laden churches off narrow, cobbled, sloping streets opening out onto grand, lively plazas.
Unique culture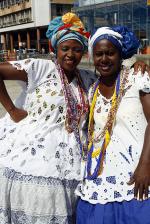 Baian women in traditional dress
We were staying in the Pelourinho, where many of Salvador's hotels are located. Our hotel was Casa do Amarelindo, a charming, small hotel in the heart of the Pelourinho in a converted original town house. Well-placed for exploring the historic centre, we did just that visiting the iconic churches, plazas and the beautifully restored art-deco Elevador Lacerda, the first lift to be built in Brazil in the 1870's which connects the upper and lower cities.
The city was once an important centre of Brazil's slave trade, and this is noticable today with a lot of African music, food and religion fusing with that of Portuguese to create a fascinating and unique culture and spirit. We were reccomended to watch a traditional folklore show whilst we were there, so got ourselves tickets for just BR$50 and headed to the intimate Miguel Santana Theatre, just around the corner from our hotel. The show featured traditional songs, dances and acrobatics from Afro-Brazillian culture expertly performed by the internationally renowned Bahia folklore company in exquisite costumes. Well worth watching!
Distinct neighbourhoods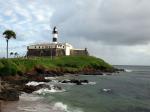 Farol da Barra lighthouse
There is much more to Salvador than the Pelourinho, with many different neighbourhoods all offering their own flavours and attractions. Porto da Barra beach, in the Barra neighbourhood, is a popular haunt for both locals and tourists alike. It has a picturesque setting at the entrance of the bay with a small, colonial fort and lighthouse at one end and a whitewashed church perched on a hill at the other. This, coupled with the fact that Porta da Barra beach is one of the only beaches in Brazil where you can watch the sunset, mean it is not surprising it was named by The Guardian newspaper as "the third best beach in the world".
Another interesting neighbourhood to visit is Rio Vermelho in the south of the city. Set by the sea and with numerous bars and restaurants, it is especially popular with Salvador's younger generation and its central plaza can often be seen in the evenings teeming with young Salvadorians eating and drinking with their friends on plastic tables and chairs sprawled over the cobbled square. It is also the place to get the best Acaraje in town - a bean and shrimp fritter which has its roots in African cusine and is a staple in Salvador!
Pretty mining towns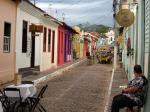 The colonial town of Lençois
We could have spent many a happy day in vibrant Salvador, but alas a tour operator's work is never done, so we headed inland to the pretty colonial town of Lençois - the gateway to the Chapada Diamantina National Park. As an old mining town which boomed in the mid-19th century after the discovery of diamonds in the region, I wasn't expecting much, but was more than pleasantly surprised. With narrow cobbled streets lined with brightly painted houses opening up onto charming plazas, Lençóis is a great base for adventures into the park. It's not short of eateries either, with many good restaurants serving home-cooked local food to Brazilians and tourists alike dining on tables spilling out onto the streets under the stars in the warm night air.
Table-top mountains, abundant waterfalls and vast caves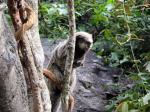 A white-faced monkey in Chapada Diamantina
The Chapada Diamantina National Park covers an area of 1,520 sq kms, much of which is only accessible through multi-day hikes. There are, however, an abundance of day trips that can be undertaken from Lençois allowing spectacular hiking, swimming and diving in natural pools and waterfalls and exploring vast caves.
The park is also home to a variety of wildlife including several species of monkey, deer, capybaras (a giant guinea-pig creature native to South America), hundreds of species of birds and even small populations of pumas and jaguars! However the main atttraction is the landscape - with canyons, valleys and forest overshadowed by imposing table-top mountains changing colour from blue, to green, to orange with the fading light. It is well worth making the journey inland and spending a few days in this little-visited region.
Brazil's north-east really charmed me. The laid-back attitude and unique afro-brazilian culture are evident in every aspect of the region from the food and lifestyle, to the friendliness of the locals and their well-placed national pride. Coupled with its outstanding natural beauty, seemingly endless coastline and year-round holiday weather, north-east Brazil is an area not to be missed!