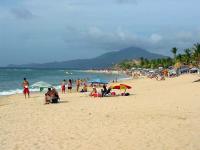 The island of Margarita, ringed by beaches, is a popular destination both for mass market packages and Venezuelans on holiday. While parts of the island have been spoilt by uncontrolled development and the beaches can be crowded, there are some pretty posadas (inns) which provide a friendly base for exploration.
To the east of Caracas, a short drive from Barcelona, is the Mochima National Park - a series of small, mostly uninhabited islands and promontaries with white sandy beaches, for excellent fishing, snorkelling and diving.
Our preferred accommodation
Country hotel - Playa Caribe, Margarita

An oasis of peace and tranquillity just north of the town of Juan Griego, in a walled area a few minutes walk from Playa Caribe beach. (Formerly Casa Chiara)

Beach hotel - Playa el Agua, Margarita

A family-run hotel in a colonial-style two story building, set back one block from the main beach area. Public rooms are set around the pool and there is a bar and snack bar as well as a restaurant.

Country hotel - Mochima

A beautiful property on the private Peninsula Majagual in the Mochima National Park, a collection of islands and crystal water bays between Puerto la Cruz and Cumaná.