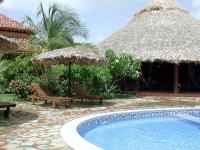 Casa Caracol
Location
Playa Caribe, Margarita (Margarita and Mochima, Venezuela)
Description
An oasis of peace and tranquillity just north of the town of Juan Griego, in a walled area a few minutes walk from Playa Caribe beach. (Formerly Casa Chiara)
Activities
The hotel can arrange car hire (they will provide a map), or alternatively island tours can be arranged with a driver. Margarita is a very easy island to find your way around and all the many beaches have different characters. Kite surfing is the latest craze to hit the island, the conditions are perfect!
Accommodation
There are 4 cottages (each with two rooms). All rooms have their own veranda (with a comfortable hammock) which leads through shrubs to the central pool with umbrellas and loungers. Beside this is a lovely churuata (palm-thatched circular Indian hut) with the restaurant, sitting area and bar, decorated in pastel and ochre colours. Continental breakfast is included, and if on half-board, a marvellous 4-course supper (drinks are extra).
When to go
All year. Beaches can be busy during local public holidays (particularly Christmas, Easter and Carnival).