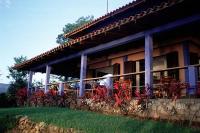 Villa Majagual
Location
Mochima (Margarita and Mochima, Venezuela)
Description
A beautiful property on the private Peninsula Majagual in the Mochima National Park, a collection of islands and crystal water bays between Puerto la Cruz and Cumaná.
Activities
The park is home to some of the finest beaches in Venezuela, many only accessible by boat. From the small sun deck there is a pedallo available for use. At additional charge they will also arrange diving and boat charter to explore the park, visit remote beaches or to go in search of dolphins.
Accommodation
The hotel has 12 rustic style cabañas with private bathrooms, hot water, ceiling fans and individual verandas (where coffee is served in the morning). The dining and social areas are in a split level building with excellent views of the islands and constant sea breezes. Meals are served on the terrace below; fresh local ingredients cooked with great attention to detail.
Bear in mind that Majagual is intended for those who want to unwind so those looking for late nights will be disappointed! As well as a pool and gardens, there is a small beach on the peninsula - other remote beaches can be reached by boat. Not much English is spoken.
When to go
All year. As it is possible to get to remote and unspoilt beaches it is a good option during busy times of the year when more accessible beaches are crowded. Whales can be seen at the end of January and during February.