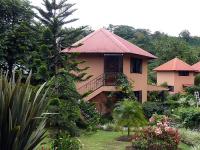 Boquete Garden Inn
Location
Boquete (Chiriquí Highlands, Panama)
Description
Bright and airy cabañas set in very pretty gardens, this is a good option for clients wanting a bit more independence as each room has its own kitchen area.
Activities
Every evening Jay hosts a social hour (with a free drink for everyone) in the little bar down by the river, so guests can get to know each other and share their day's adventures with others.
Accommodation
There are 10 rooms altogether and the king suites have full-sized kitchens. The gardens lead down to the river and there are hammocks and benches tucked into odd corners to give guests some privacy as they relax.
Our comments
The owners Jay and Karen have shown real care and attention to detail as they have lovingly created this lodge.