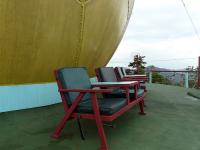 Canopy Tower
Location
Gamboa (Canal Zone, Panama)
Description
An eco-lodge and nature observatory from where you can view the tree canopy from your bedroom.
Activities
The Canopy Tower package includes one shared half-day tour during your stay with the local birding guides. Private tours can be arranged and trips to the Gatun Lake are also ideal from here.
Accommodation
The canopy rooms are on the 2nd floor, 28ft above the ground and below the dining room and below the open observation deck above that.
Client comments and reviews
Loved the Canopy Tower, birds and mammals were fabulous. Cotinga Suite - spacious. - SG (March 2011)