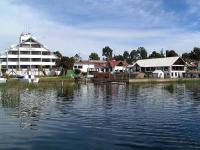 Hotel Las Balsas
Location
Puerto Perez (Lake Titicaca, Bolivia)
Description
Swiss owned small hotel right on the lake shore, with wonderful views of the Bolivian snow capped mountain ranges. Beautiful at sunset!
Activities
The hotel has several speedboats and offers excursions across the lake to the fascinating island and communities of Pariti and Kalahuta. A short drive from the hotel is Batallas which hosts a remarkable Saturday market.
Accommodation
There are 29 spacious rooms each with a balcony facing the lake, wonderful for watching sail boats glide across the water in the mornings!

Our comments
A comfortable hotel in Puerto Perez featuring an interesting mix of styles with friendly service. Puerto Perez itself is scruffy though photographically very interesting and a real hive of activity especially around the lake shore. The rooms have no central heating and despite the electric heaters, do get cold at night.