I was joined for this talk by several very knowledgeable guests who talked mainly about the wines of Argentina, Chile and Uruguay. Charles Sanderson, friend and Last Frontiers client, pioneered the UK import of Chilean wine (initially from Cousiño Macul and Concha y Toro). By the time he retired after 50 years in the wine trade the latter had become the largest wine producer in Latin America and annual imports to the UK had grown to 5 million cases. Verónica and Jeff Mausbach live in Mendoza: Jeff, originally from Chicago, spent 13 years telling the world about Catena Zapata's unique high-altitude Malbecs and now has his own vineyard, while his wife Veronica runs a boutique travel company specialising in winery tours. Manuel Filgueira is a 4th generation winemaker from Uruguay, who has worked in Bordeaux and Argentine Patagonia, and is now developing his own winery in Uruguay.
Introduction - History of wine in South America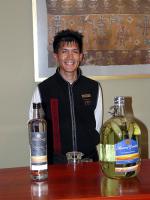 Pisco in Peru
The indigenous peoples of Latin America made alcoholic drinks using maize, potatoes and various fruits, as they still do. While there are native vine (vitis) species in the Americas, they were never fermented. They are however resistant to phylloxera, an aphid-like pest that was inadvertently introduced to Europe by 19th century plant collectors. It was only by using resistant North American species as rootstock that the European vineyards were able to recover.
Vines for winemaking were introduced in various waves. One of the earliest was when Columbus took vines to the Caribbean island of Hispaniola (present day Haiti and the Dominican Republic), on his second voyage in 1494.
Vines were also taken to South America by the Jesuits, in the 16th century. The Jesuits went to Brazil first, followed by Mexico and Peru, where the first vineyards were established in 1548. As a side-note a Spanish/Portuguese treaty and agreement to expel them led to a 2 year war (1754-56), followed by their expulsion in 1767. This was the inspiration for the film The Mission.
The other major source of vine arrivals over the centuries were immigrants, most significantly from Spain, France, Italy, Portugal, and Germany.
Peru was one of the most important early wine-makers. Much of its production went to Potosí (in Bolivia), the largest city in the Americas in the 17th century because of its silver mine, not least because part of salaries were paid in wine. In the 18th century production shifted to pisco (a white spirit distilled from grape skins) and Peru was thereafter no longer a major wine-making country.
Today, while good wine is still produced in Peru, Bolivia (and Colombia and Mexico) the four largest Latin American wine producers are Argentina (4th in the world), Chile (6th), Brazil, and Uruguay. In Patagonia, it is interesting to see that wine territory is moving steadily southward, much as it is moving northwards in Europe.
Chile - Charles Sanderson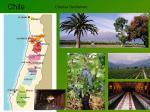 Chile slide
Charles gave us an overview of the history of the great Chilean wine estates, initially centred around Santiago (in particular the Maipo valley) but now spread as far north as the Atacama and as far south as the Rio Bio river in the Lake District. Most vineyards were developed by families who had had success in other fields (often mining) and were able to use that wealth to establish their wine businesses. Charles worked with two of those companies during his long career in the wine industry: Concha y Toro and Cousiño Macul. The first Chilean wine imports to the UK had been a success mainly because of their accessible price (shipping at the equivalent of 30p (50 cents) a bottle in the 1970s!), but the range of export wines has increased enormously since then. He mentioned the age of some of the vines (quality vs. quantity) and talked about the collaboration between Rothschild winemakers from France and Concha y Toro vines in Chile which resulted in the very fine Alma Viva wine.
Questions: Charles particularly mentioned Carménère as a recent Chile success story and worth trying. Are there any particular vineyards with gardens you would recommend in Chile, near Santiago? Concha y Toro, Santa Rita and Cousiño Macul.
Argentina - Jeff and Verónica Mausbach
Mendoza's wine regions
Jeff gave us a bit of history on the (mainly French) introduction of the grape vines to Argentina, and in particular Mendoza, where they have a vineyard (Bodega Teho). Jeff worked for many years with the iconic Bodega Catena Zapata, and as Wine Education Director travelled the world preaching the gospel of the unique character of high-altitude Malbec from Mendoza, explaining the character and expression of its many different terroirs.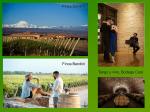 Mendoza wineries
His wife Verónica, who runs a boutique travel company specialising in winery tours, explained the differences between the different regions around Mendoza, not only for winery style but also for the range of activities available, from rafting and trekking to riding. There are 5 main wine regions: the Northern area (Lavalle), the Eastern area (Maipu), the Upper Mendoza river valley (Luján de Cuyo), the Uco valley (Tupungato and San Carlos) and the Southern area (San Rafael).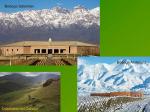 Wineries and mountains
Questions: Why is Malbec less tannic in Argentina than in France? Mainly the sunshine. Jeff suggested Cabernet Franc as a possible candidate to follow Malbec's success, and gave us a chemistry lesson on the chemical processes that take place at higher altitudes.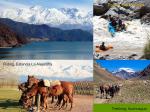 Local activities
Best gardens: Piedra Infinita by the Zuccardi family, Finca Bandini, Finca Decero winery
Reading suggestion: The Vineyard at the End of the World by Ian Mount (ISBN: 9780393344172)
Wine top buys: Manos Negras, Zaha and Teho (all from their winery!); Catena Zapata and Trapiche; Zuccardi wines (especially those from the Uco valley)
Uruguay - Manuel Filgueira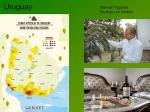 Uruguay wine regions
Manuel apologised for his (excellent!) English, and then shared his passion for the Uruguayan 'speciality' grape: Tannat. He explained that the soil and geography of this small and friendly country had had some interesting side effects including a preference for more bitter flavours than the northern (Brazil) or southern neighbours (Argentina), which is reflected in their choice of mate tea. This seemed to be echoed in the wine, as Tannat, introduced by Basque settlers in the 19th century, is normally quite bitter. Manuel explained that his goal is to produce a smoother and less tannic wine by use of technology, materials (oak barrels) and longer in-bottle ageing. His knowledge and enthusiasm shone through!
Questions: Could one grow Tannat in Patagonia (south of Bariloche)? Yes, almost certainly.
Wineries with nice gardens: Bouza, Garzón (which has just taken 2nd place in the World's Best Vineyards awards); the British Embassy (!).
Further reading:
The Unique wines of Uruguay by Dominé (ISBN:9789974989412)
Guía de Bodegas y Vinos de Uruguay by Vásquez/De Villiers (ISBN: 9789974685956)
Further information
Just ask if you would like us to include one or more of the regions or ideas that came up in this webinar in a future itinerary. While drinking wonderful wine is a pleasure wherever you are in Latin America, meeting local experts like Jeff, Verónica and Manuel brings an extra dimension, creates lasting friendships, and makes sure that you get the very most from a visit.