Towards the south-western tip of Bolivia, high in the Andes bordering Chile and Argentina, is some of South America's most captivating scenery, an otherworldly showcase of lunar landscapes, petrified forests, geysers and multicloured lakes all under huge aqua-blue skies.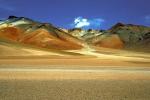 The desert of Salvador Dali
However, amongst the geological marvels, the highlight is the Salar de Uyuni, the largest salt-lake in the world and a dazzlingly white expanse of hexagonal salt crystals stretching out as far as the eye can see.
For years, this was purely backpacker territory, a long slog south from the capital la Paz on rickety buses but now a brand new flight from la Paz to Uyuni has finally opened Bolivia's southern highlands.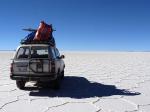 The Salar de Uyuni
Last Frontiers can offer a 7 day trip to Bolivia starting from £2244 per person. Spend 2 nights in the capital La Paz with a city tour before you fly to Uyuni to embark on a unique 4 day jeep journey to take in the geysers, smoking volcanoes, petrified forests and colourful lakes of the southern altiplano culminating in the Salar de Uyuni. Each night is spent in a rustic lodge before you fly back to La Paz for a final night. The price includes international and internal flights, all transfers and accommodation and the 4 day guided jeep tour with all meals included.
To extend the trip, why not continue across the border into the Atacama Desert in Chile, or even continue south though the mutlicoloured canyons of Tupiza into northern Argentina and Salta. Please contact us for more information.