Visit the Atacama desert, one of the driest places in the world. From your hotel, close to the picturesque oasis village of San Pedro de Atacama, many of the desert's most dramatic sights are within easy reach.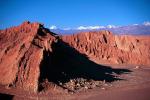 Death Valley
During your stay at Alto Atacama you can visit the geyser fields at El Tatio at dawn as they thaw, blowing plumes of steam into the air. You will have the chance to bathe in the many natural hot springs or walk through the Valley of the Moon where almost no rainfall has ever been recorded. The nearby great Atacama salt lake is another highlight, homeland to flocks of flamingos framed in the distance by smouldering volcanoes. The lodge offers excellent food and a wide choice of Chilean wines - all your senses will be awakened in just a few days.
Last Frontiers' (01296 653000, lastfrontiers.com) seven-night itinerary to the Atacama Desert includes two nights in Santiago with breakfast, and four nights at the Alto Atacama including daily shared tours with a bilingual guide, and all meals. Prices start at £2,770 per person including international and domestic flights, accommodation and transfers.