As a lover of the outdoors, nature and wildlife, the opportunity to fly non-stop to Costa Rica (on the new non-stop British Airways flight) and spend 10 days seeking out some of the wonderful wildlife the country is famed for was just my thing.
Carara National Park, central Pacific coast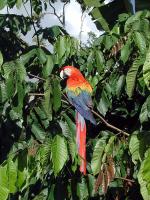 Scarlet macaw
Bordering the Carara National Park on the central Pacific coast, known as one of the best places to find the scarlet macaw, Macaw Lodge was the perfect place to spend the first couple of nights. Accessed along a twisty road, heading east into the mountains past local farms and villages, it really felt like I was heading into the rainforest away from civilisation! Arriving to the lodge at dusk I was given a wonderful welcome and served an excellent dinner whilst listening to the jungle sounds. The property is 264 acres with 8 acres of cultivated gardens and more than 500 plant species from around the world, including ornamental, medicinal and agricultural plants. It is all hand crafted and has been built to blend in with the environment, with the objective to accommodate anyone who loves nature, enjoys wildlife and wants to learn about the ecosystem etc..
As with most nature lodges it is early to bed and early to rise, and with the dawn chorus and monkeys making themselves heard it is rarely necessary to use an alarm clock! The octagonal main lodge overlooks a lagoon and has an open-sided communal area downstairs and eight screened rooms upstairs. There are also four separate cabins. Activities include rainforest walks, bird watching, night walks, yoga etc.. The lodge also produces its own chocolate which I sampled after helping grind the beans at the end of a cacao tour - delicious. The impressive vegetable garden is definitely worth a visit too.
The lodge can also help with organising a guided visit into the Carara National Park and a stay here combines well with time on the coast before or afterwards.
San Gerardo do Dota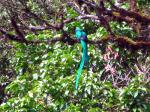 Resplendent quetzal
Saying goodbye to Macaw Lodge I set off inland to San Gerardo do Dota, a cloud forest region at about 2,500m and one of the best places to spot the resplendent quetzal. The area had long been on my wish list and the final journey down into the valley was stunning. Surrounded by over 150,000 acres of forests, rivers, valleys and mountains with wonderful walking trails, Los Quetzales National Park is perfect for any active wildlife enthusiast. My wish came true with excellent sightings of a both male and female quetzal early one morning - they really are impressive! The region is also home to an abundance of humming birds and both Trogon Lodge and Savegre Lodge, my favourite two properties in the valley, had wonderful gardens with hummingbird feeders and a wide variety of other bird species.
Having visited other cloud forest areas within Costa Rica, this beautiful region came high on my list and was well worth the journey.
North-eastern lowlands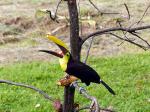 Keel-billed toucan
Heading to the north-east of the country my final highlight was Maquenque Eco Lodge, a wonderful small family-run lodge just north of the tiny village of Boca Tapada, and very near to the Nicaraguan border. It's quite a journey with the final hour being along an unpaved, bumpy road past fields of pineapple and cassava plantations, but once you arrive you realise the journey was 100% worth it. On arrival to the village I took a boat across the San Carlos river and walked through the gardens to the lodge. My luggage was all taken care of and I received a wonderful welcome before being shown to my cabin.
The main lodge overlooks a lagoon, home to a variety of birdlife, and toucans and parakeets came to sit on the feeders by the restaurant while I ate breakfast. I had an action-packed day of activities and excursions which most people would split over two or three days, but I wanted to maximise my short stay. These included a boat trip along the river to the village of Boca San Carlos (where I visited the tiny local school and a local family), a rainforest walk through secondary rainforest, a night walk (lots of frogs!) and I planted a tree. There is also a huge amount to see around the lodge gardens and the cabins all have a private terrace overlooking the lagoon, perfect for relaxing.
Overall I loved my stay, the staff could not have made me more welcome and this lowland region is quite different to those experienced earlier in the trip, and therefore gave me the opportunity to see and experience many different species.
After a final night just outside San José it was time to bid farewell to Costa Rica, but with lots of wonderful memories and new ideas from a trip that just went too quickly.