In August 2012 I was very lucky to be invitied by One Ocean Expeditions on a 14 night cruise through the Northwest Passage. Our adventure began with a charter flight from Ottowa to Kangerlussuaq, just north of the Arctic Circle in Greenland. Met by our wonderful crew we boarded Akademik Ioffe, our home for the following two weeks, and set sail through the Sondre Stromfjord. This was just the start of what was to come - beautiful clear evenings and almost 24 hours of daylight.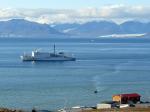 Ioffe
After the mandatory safety talk we were ready for our zodiac excursions. In both Evigshed and Itivdleq Fjords glass like icebergs floated towards us and huge glaciers appeared through the mist. Our early morning cruise before breakfast at Ilulissat was spectacular - brilliant blue skies and huge sparkling ice-bergs with the extensive Jakobshaven glacier glaring at us in the distance. Later we also had the opportunity to go on land, visit the town and walk to the face of the glacier for more photos.
The port town of Sisimiut gave us an excellent insight into one of the busiest towns in Greenland – brightly coloured houses, beautiful husky dogs, friendly people, an interesting museum and a hive of industry as ships were loaded and unloaded.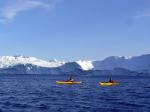 Kayaking, Ilulissat glacier
Sailing across the Davis Strait there was no time to get bored - the optional history, geology, wildlife and archaeology presentations kept us occupied but many of us also spent time in the bridge and out on deck in search of wildlife. As the staff included a professional painter and photographer drawing and photography sessions were also offered.
Our early morning zodiac cruise to the bird cliffs at Bylot Island was unbelievable – none of us had ever seen anything like it before. Thousands of dovekies (or little auks as they are known in Europe) covered the rocks and took off over us as we approached by zodiac - it was like a swarm of midges but noisy ones!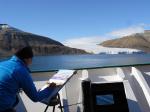 Painting in Cuming Inlet
Canadian customs was cleared on board and we then spent the afternoon at Pond Inlet. After a wonderful welcome from the local Inuits we saw the visitors centre and had time to explore and get an insight into the remote way of life experienced in the high Arctic.
Our visits to Beechy Island (where the remains of the Franklin Expedition can be found), Fort Ross, Victory Point (where there is no point!), and Cambridge Bay were all fascinating - at times it was like 'walking on history'. The tabular rock formations in Cuming Inlet were unique and when a herd of walrus were spotted on the rocks enjoying the sunshine, the afternoon flew by.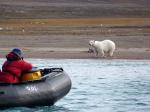 Polar bear, Coningham Bay
The captain continually monitored the ice charts as we sailed through patches of sea ice, and the narrow Bellot Strait was beautifully navigated one misty afternoon. When polar bears were spotted in the distance there was a sudden change of plan and the evening was spent in Coningham Bay amongst a family of polar bears feasting on a whale kill - a female and her two cubs swam towards us and a huge male stood and watched in the distance. The captain and expedition leader are very flexible, so as time allowed we anchored overnight and revisited the following morning. 14 polar bears were counted - an amazing experience for all of us. A similar situation arose when musk-ox were spotted in the distance on South Victoria Island where another unscheduled stop was made.
Our final evening was spent reflecting on our experiences and on arrival in Kugluktuk we boarded a charter flight to Edmonton where everyone said goodbye.
It was wonderful trip, I returned full of enthusiasm and One Ocean Expeditions were superb - a huge thank you to all the team on board. One Ocean have an exciting and interesting selection of cruises in both Antarctica and the Arctic, on their sister ships Akademik Ioffe and Akademik Vavilov. Optional activities such as sea kayaking, camping and hiking are offered on most cruises and some also have a specific focus (e.g. history, wildlife, photography, hiking, painting) when workshops are offered. The ships are refurbished Russian cruise ships and do not claim to be luxury but are very comfortable and the service on board is first class. If you enjoy wonderful scenery, wilderness and wildlife you will not be disappointed by a Polar adventure!