Peru has never failed to impress me, it was one of the first countries in Latin America I ever visited and with the combination of wonderful scenery, amazing Inca ruins, the steamy Amazon, welcoming people and good food too, I wasn't going to decline the opportunity to return. In a country with such a diverse number of things to do and regions to visit there are always new things to learn, discover and experience.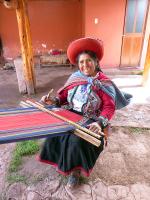 Weaver at Cuper Bajo community
I was only in the country for a week on this occasion but it's amazing how much one can squeeze in to a limited period of time. After a night in Lima I flew to Cusco and was driven directly into the fertile Urubamba valley (also known as the Sacred Valley of the Incas). Surrounded by towering peaks with picturesque villages, local markets, Inca ruins and plenty of wonderful hikes, for those that like to be more active, it's an excellent base for visiting some of Peru's iconic sites.
Explora Valle Sagrado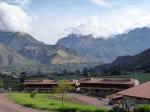 Explora Valle Sagrado
Hotel Explora Valle Sagrado was my home for four nights and lived up to all my expectations. Explora has a renowned reputation for their first class hotels in Chile, and the wide choice of guided excursions they offer (explorations as they call them) are a real bonus. I was therefore particularly excited about staying in the hotel - not only because it's very comfortable, but because of the excellent choice of activities (all included and in small groups) which certainly kept me busy!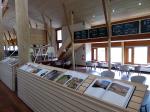 Explora briefing area
The hotel has a lovely setting overlooking fields of maize with views to snow capped peaks, and although it's within easy reach of all the key highlights in the valley it still has that feeling of being slightly 'off the beaten track'. The open plan communal areas have big picture windows, a fire is lit in the main lounge each evening, and everyone meets the guides before dinner, to have a drink and discuss activities for the following day. Everything felt very relaxed, there was no need to dress up and all the guests were just enjoying the combination of a first class hotel, delicious food and expert guides. There is also a very welcoming spa with an outdoor pool, hot tubs and treatment rooms - perfect for anyone that wants to relieve any aches and pains after a day of activity!
Sacred Valley Excursions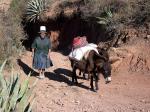 Walk from Maras to Salinas
Altitude is something one always needs to take into consideration when travelling within Peru. Cusco is 3,310m and the Sacred Valley is 2,850m, but some day trips take you over 4,000m. With a choice of about 30 excursions to choose from, deciding what to do is not easy. However, the Explora guides were great and after the initial briefing, and having got a better understanding of each individual person's interests and level of fitness, they gave advice and tips on which excursions they felt suitable. We made our choice each evening which meant nothing had to be pre-booked in advance (with the exception of a visit to Machu Picchu) and I liked that flexibility. Last minute changes could usually be catered for too, and the staff went out of their way to accommodate everyone.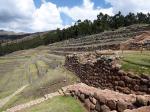 Chinchero Inca terraces
I did some excellent full day hikes which took us through some stunning scenery and to areas where very few other tourists are lucky enough to visit - we ate a picnic lunch along the way, chatted to the locals and walked through remote villages. I also visited Inca ruins (including Chinchero, Purmamarca and Ollantaytambo), a small weaving community and a local family home.
Machu Picchu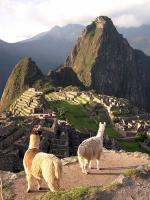 Llamas admiring the citadel
Machu Picchu is easily visited on a full day excursion by train from the Sacred Valley and definitely not something I wanted to miss. It was just as impressive on this trip as it was on my first visit to Peru, when I arrived through the 'Sun Gate', and is on the majority of people's 'wish list' when organising a holiday to Peru. Being such an important and popular site there is no hiding the fact that it does receive a huge number of visitors each day, but with the regulations that are now in place (e.g. permits for hiking the Inca Trail, specific entry times and a limit on how long one can stay inside the Inca citadel) I was pleasantly surprised that it didn't feel too overcrowded.
Sacred Valley Hotels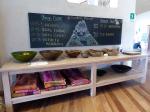 Explora day trip board
A minimum stay at Explora of 3 nights (ideally 4-5) is needed to do it justice. If time allows and you want your days filled (hiking, mountain biking, visiting Inca ruins) etc. accompanied by expert local guides and knowing that you will return to a comfortable bed and excellent supper each evening, then it's a very good choice and good value. All meals, drinks (both soft and alcoholic), transfers to and from Cusco and excursions (in small groups) are included.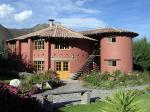 Sol y Luna
If you don't feel that Explora is quite right for you there are some other excellent properties in the Sacred Valley and excursions, either on a private basis or in small groups, can all be organised and tailored to suit you. Sol y Luna, Rio Sagrado and Hacienda Urubamba are all firm favourites of ours and work with a selection of first class local guides. Our Classic Peru itinerary gives a wonderful introduction to Peru (and includes a stay in the Sacred Valley) but can be tailored to suit you. There are also some wonderful hikes including the Lares valley cultural adventure (with the option to camp or stay in comfortable lodges). If Peru is on your 'list' - whether it's with friends, family or alone we'd love to help plan your holiday.
www.lastfrontiers.com/peru/regions/sacred-valley