When we heard that Ocean Nova was stopping in Barcelona we jumped at the chance to visit (and of course Barcelona is nice in spring too!). Usually to be found in colder waters, Antacrtica XXI operates Ocean Nova for their air cruises to the Antarctic Peninsula.
We hopped aboard in the afternoon in time for a briefing by the ship owner, a guided tour and cruise out to sea. This was followed by a delicious evening meal and a slideshow of images taken during the last season by the regular on-board photographer.
We spent the night on the ship in our simple but comfortable cabin (and actually the beds were very comfortable) with its own private bathroom. The following morning we were treated to a scrumptious buffet breakfast before bidding farewell.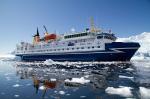 The Ocean Nova
The ship was built in Denmark in 1992 and has an ice-strengthened hull. She carries up to 68 passengers and there are 10 expedition leaders, which means she has one of the highest staff to passenger ratios of any Antarctic cruise.
The cabins are all the same category and all have a picture window (as opposed to a porthole). There are single and triple cabins and also some more suited to those with limited mobility.
There are many social areas, including the panoramic lounge, observation deck, aft lounge, library and small gym. There is a small outside area at the stern where barbecues are held as well as a lovely dining area. The bridge also has open access.
We would highly recommend the boat having been on board and it is particularly suited to those who wish to experience Antarctica but not the Drake Passage!
Sue is our Polar expert, as she has been lucky enough to have visited both Antarctica and the Arctic. Lizzy is our Falklands expert, having spent a week island hopping.