Peruvian cuisine is world-renowned for being something special, and if you've tried it you'll understand what all the fuss is about. If you haven't, then you have the perfect excuse to read on and try out one of the below recipes!
Peru is divided into three geographical regions: coast, mountains and jungle, and each one has its own traditional dishes cooked with local ingredients. From the snow-capped peaks of the Andes to the dense Amazon rainforest, each microclimate has the perfect conditions for growing a unique array of produce. This, combined with their ability to reinvent traditional dishes with a modern spin, is part of reason behind its gastronomic boom.
Lomo Saltado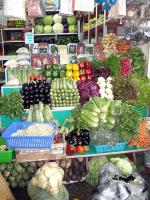 Lima Market
This traditional Peruvian dish of stir-fried beef and potatoes is a fusion of Peruvian and Chinese cuisine, also known as Chifa. It is a favourite for lunch and is very flavoursome, but not spicy.
Ingredients: (Serves 2)
450g sirloin steak cut in thin slices
2 garlic cloves, finely diced
Salt & pepper to taste
3 tablespoons vegetable oil
1 small red onion cut in thick slices
2 plum tomatoes cut in thick slices
1 seeded and ribbed aji amarillo chili pepper cut in thin slices
2 tablespoons soy sauce
3 tablespoons red wine vinegar
70ml cup beef stock
handful fresh coriander, coarsely chopped
250g cooked chips
Instructions
Season the beef with garlic, salt and pepper.
Put a wok or a pan over very high heat. Stir in oil and cook the meat, a few slices at a time (so they do not steam and the meat browns). Cook about 10 minutes, depending on how high the heat.
Stir in the onion, tomato, chili pepper, and stir for about 2 to 3 minutes. The tomatoes and onions should be crunchy, not mushy. Stir in soy sauce and vinegar on sides of wok or pan. Mix everything. Add beef broth and boil. Taste for seasoning.
Mix in the chips and coriander and serve with white rice.
Pisco Sour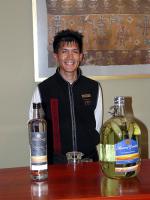 A signature drink in Peru (and also neighbouring Chile), with its own designated day, celebrated on the first Saturday of February!
Ingredients:
100ml Pisco
100ml lime juice
100ml sugar syrup
2 egg whites
Angostura Bitters
One cup crushed ice
Instructions:
1. Crack two eggs, separating the whites from the yolk.
2. Cut enough limes to squeeze 100ml of juice, and add it to a cocktail shaker or blender along with the egg whites.
3. Add 100ml of sugar syrup, 1 cup of crushed ice and 100ml of Pisco.
4. Shake or blend the ingredients until foamy and serve straight away, adding a dash of Angostura Bitters on top.