On 21 September Julia Brookes of the Saturday Times picked the 20 best family holidays from around the world and Last Frontiers' Peru Family Adventure was featured.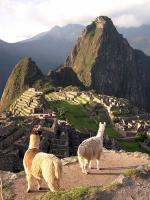 Alpacas at Machu Picchu
Peru is a real country of highlights - from ancient Inca sites to colonial cities, lush Amazon rainforest to the high Andes - it is rich in history, culture, adventure and wildlife.
Our suggested nine night trip for The Times includes riding, white-water rafting, hiking, inflatable canoeing and downhill mountain biking. It also includes a visit to the Inca site of Machu Picchu with plenty of time to explore the ruins.
Prices start from £2,450 per person based on a family of four sharing two rooms, including all breakfasts and some other meals, flights from the UK and private tours and transfers.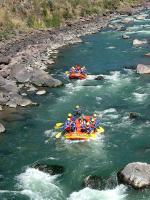 Rafting on the Urubamba river
For this particular itinerary children must be a minimum of 8 years old, but we can tailor the arrangements to suit each individual family's requirements. Should you wish to take a longer holiday, and maybe include the Amazon, some nights under canvas or another region then this is all possible. We can organise trips year-round (although the weather is best from April to November) so you may like to consider the Christmas, Easter or summer holidays for a longer trip.
Please contact us on 01296 653000 or info@lastfrontiers.com
"I cannot emphasise how brilliant a trip this was. Every day got better, if that was possible, and the different things that we did and the places we saw were amazing. The planning and the organisation throughout made it so easy for us and everything just flowed along with precision." - JG