Chris Moss includes Last Frontiers in his article about Patagonia. We love Patagonia too! Particularly the stunning landscapes, cloud formations, sheep, homely estancias, wild weather, general remoteness and gauchos.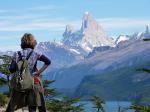 The Fitzroy Peaks from Lago del Desierto
After spending a few nights enjoying all that Buenos Aires has to offer, fly south to Calafate. Stay on a beautiful, homely estancia which is part of a 60,000 hectare sheep ranch and surrounded by Patagonian steppe. The Los Glaciares National Park is close by where ice-trekking traversing atop the Perito Moreno and boat trips to the face of the famous glacier can be arranged. The Onelli, Spegazzini and Upsala glaciers can easily be visited too but by longer boat ride. For those with more time, to the east is the Fitzroy National Park bordering Chile and the small frontier town of El Chalten where there are excellent day hikes. Fly further south still to Ushuaia which is the last town before reaching the Antarctic. Lapataia National Park is close by for day hikes, riding, year-round skiing, sledding with huskies, birdwatching and fly-fishing. A boat ride on the historic Beagle Channel are a particular highlight as is a visit to the local gaol!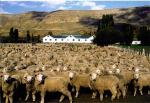 Sheep at Estancia Anita
Last Frontiers offers a 10 night trip of a lifetime to the far south of Argentina including 3 nights in Buenos Aires, 3 nights in Calafate and 3 nights in Ushuaia. Prices start from £3,155 per person sharing a room and includes all flights, transfers, accommodation, breakfast throughout and all meals on a traditional estancia.