Ceviche is nowadays a popular international dish prepared in a variety of ways throughout the Americas. The dish originates from Peru and is typically made from fresh raw fish cured in citrus juices, such as lemon or lime, and spiced with ají or chili peppers. The greatest variety of ceviches are found in Peru, Colombia, and Ecuador; but other distinctly unique styles can also be found in coastal Honduras, El Salvador, Guatemala, the United States, Mexico, Panama, the Caribbean, and several other nations.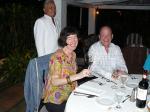 Jill enjoying a taster menu with Charlie at the Panamonte Hotel in Boquete
A lovely fresh ceviche recipe from one of Panama's top Chefs, Charlie Collins.
You will need fresh sea bass, ideally kept beforehand in iced water. Cut the fish into chunks with a very sharp knife and add lime juice, chopped celery and a generous helping of coriander. Soak the fish for 3 hours then keep in airtight ceramic or glass container (not plastic!). Serve on a bed of avocado, lettuce and tomato. Yummy!