When they read out the winning ticket number, my heart stopped. I had just won tickets to Latin America with British Airways at the LATA Foundation annual quiz night and I never win anything! I have always wanted to go to Mexico and with British Airways flying non-stop from London to both Mexico City and Cancun, my decision as to where to go was not a difficult one. On a dreary evening in London I began to plan my own trip to the land of ancient ruins, colonial cities, white sand beaches and some of the best food in the world.
Mexico City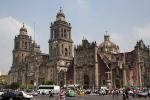 Main square - Mexico City
My trip began in the second-largest capital in the Americas (after São Paulo) arguably Mexico's cultural hub with hundreds of museums and galleries. The architecture in the centre is grand and imposing, dominated by the spectacular cathedral in the Zócalo, though my main draw for visiting Mexico City was the food. Everywhere you go people are eating and the aromas of barbequed meat, fresh herbs and punchy chillies are ever-present. Street food can be a bit daunting, but when you get used to the fast-paced service and eating with your hands, it is hugely enjoyable. There are also some excellent restaurants in the capital, my favourite being Café Tacuba, just off the Zócalo. The building, which was once part of a monastery, is steeped in history and the restaurant serves some of the best mole poblano I have ever tried. The resident Mariachis also provide entertainment throughout the evening making the whole experience unforgettable.
San Miguel de Allende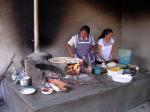 Just 4 hours north from Mexico City is the lovely colonial town of San Miguel de Allende, where I spent a few nights at the Hotel Sierra Nevada. Having been a huge fan of Mexican food for many years, I have never been much good at cooking it so I decided that the cooking course at Sazón, the cookery school affiliated with the hotel, was a must. There is a different class scheduled for most days in small groups and everyone is involved in the preparation, cooking and eating! Our day began with a tour of local markets where we learned about the local ingredients and bought what we needed for the class. We used traditional cooking techniques and the ingredients could not have been fresher, resulting in some fabulous chicken tinga enchiladas with blue corn tortillas and a spicy ranchero sauce. It was a fantastic experience and lots of fun, though my re-creations since have left a little to be desired. Food is an integral part of life in San Miguel and the variety of restaurants is astounding, so my advice is eat where the locals eat, they know what they are doing.
The Riviera Maya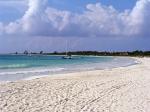 The final leg of the trip was spent on the stunning coast of the Riviera Maya, south of Cancún, in Tulúm. The beaches are as you would hope them to be, squeaky white sand and turquoise water rolling gently on to the shore, an idyllic spot to get more acquainted with one of Mexico's most famous exports – tequila. Often thought of as the shot that no-one really enjoyed at university, I soon discovered that tequila in Mexico is quite different and should be treated more like a brandy or whisky. The bar staff in most hotels are well-informed and always happy to talk about the differences in white, gold and dark varieties and how mezcal (with or without the worm) was once a paupers drink that is now becoming more popular.
Mexico is a wonderful country and there is so much to explore. The combination of varied scenery, ancient history, good-natured people and exquisite food makes for an excellent holiday. My advice to anyone travelling to Mexico is to take your time, it is a vast country and you do not want to spend the entire holiday travelling around. Don't be afraid to try new foods either, even if they are a bit spicier than you are used to!