Ama La Vida (Love Life) is the current slogan being promoted by the Ecuadorian Tourist board and late last year I was privileged enough to go and explore this simple philosophy first hand. It was my second visit to Ecuador in the past five years and once again my expectations were surpassed. My travels saw me visit the dizzying heights of the southern Sierra, the colourful markets of the north and the Galapagos Islands. All too often Ecuador is seen as a jumping off point to reach the Galapagos Islands but there is so much more to it than people expect. There is plenty to see and do and one cannot help but relax and enjoy the good nature and curiosity of the locals. This is a quality that is ever present in the people all across the country and one of the highlights of any visit to Ecuador.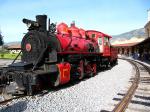 Getting around Latin America can often be an arduous task and Ecuador has been renowned for its poor quality roads and sometimes unreliable trains, but I am pleased to say that this is quickly becoming a thing of the past. There are huge projects to improve the roads and the trains are following swiftly behind making getting around not only easier, but enjoyable. The scenery just south of Quito is stunning and getting to the Avenue of Volcanoes, aptly named by Alexander von Humbolt, is a journey to be relished. I took the train out of Quito to the small village of Machachi (departs 0815 Thursday-Sunday) just a few miles from the Cotopaxi National park. The train chugs along through farmland and impressive snow-capped volcanoes and the journey takes about two hours. I was met at the station with a cup of hot coffee and a local band playing traditional Andean music which is all part of the Tren Ecuador experience. The Cotopaxi National Park is about a 40 minute drive away and as of this year is now free to enter, as is the case with all National Parks on the mainland.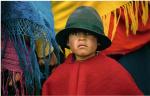 Around two hours north of Quito is the market town of Otavalo. Though the market is at its most impressive on a Saturday, there is always something happening every day of the week. The textiles produced in the area are quite beautiful and our guide took us to visit a gentleman who had been weaving for the best part of 70 years. At 81, he was still working with his hands, spinning yarn and weaving blankets – a true master of his craft. Though he clearly had a hard life and worked six days a week to earn a living, he was good humoured and even made fun of me for being almost twice his height!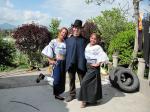 I then visited a group of ladies who make the jewellery that is an integral part of the traditional dress for Otavaleñas and I tried my hand at making some myself. Once again I was mocked for my lack of speed and nimble fingers. Though being half way across the world there was something intrinsically British about their sense of humour and I could not help but laugh. Amazingly, this small group of ladies have a contract with a jeweller in Paris and work tirelessly to keep up with the orders coming from Europe for handmade necklaces and earrings. Wherever I went in Otavalo I felt like a guest, not a tourist and everyone was pleased to see me.
The Galapagos Islands have been on the top of my list of must see destinations for a very long time and I was certainly not disappointed. Though my visit was brief, I was instantly captivated by the abundance of wildlife and varied landscape in such a compact area. For me, the most interesting aspect of the islands is the natural history and evolution of the islands themselves. All across the Galapagos there are networks of lava tunnels, some of which are accessible and it is possible to walk through them. My guide explained how the different lava flows and geography of the islands had such an impact on the evolution of endemic species. Though one of the best ways to see the islands is on a short cruise, it is possible to keep your feet on dry land and still have a wonderful experience of the islands. I visited the Galapagos Safari Camp (Santa Cruz) and the Iguana Crossing (Isabela), both extremely comfortable hotels whose focus is on enhancing their guests' experience of the Islands with excellent service and top quality accommodation.
Ecuador is a beautiful country that often does not receive the recognition it deserves for its outstanding scenery, excellent wildlife and wonderful people. My trip reassured me that it is not a one-off destination, but rather that you can keep going back and still enjoy new and interesting experiences whilst reliving fond memories. I would recommend Ecuador to anyone and everyone.