An overdue return trip to Mexico made me appreciate what a huge, diverse and wonderful country it is: friendly people, excellent food, amazing ruins and stunning beaches.
Oaxaca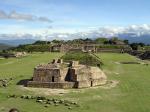 After a day in Mexico City and overnight in the lovely boutique hotel Las Alcobas we set off for Oaxaca. I loved it, cobbled streets lined with colonial buildings, a beautiful main plaza, many churches and some excellent restaurants. The Casa Oaxaca is one of our favourites but a new find was the charming Casa Catrina. Our stay was non-stop but my highlights were the archeological site of Monte Alban, where the royalty and elite of the Zapotec (and later the Mixtec) people built their homes and temples, and visiting local families in the nearby valleys where we saw famous artisans at work - wood carving, pottery and candle making - all made to look so easy! We were also treated to lunch with a local family – my favourite was the chicken and squash-blossom quesadillas with the Fuertes family, accompanied by shots of Mezcal (the local alcohol)! The weekly market in the Tlacolula Valley was amazing - very much of a local market with 1000's of stalls selling everything - fruit, vegetables, clothing, livestock, electrical goods, etc.
Sumidero Canyon and San Cristobal de las Casas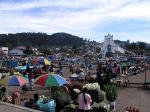 San Juan Chamula
The next day was full of adventure – it started with a great scenic flight from Oaxaca to Tuxtla Gutierrez, Chiapas, on a 13 seat Cessna Grand Caravan and was followed by a boat trip through the Sumidero canyon - the limestone walls are over 1,000m high, we saw white herons, pelicans, monkeys and crocodiles and during the wet season I'm sure the Christmas tree waterfall would be spectacular. San Cristobal reminded me of Antigua in Guatemala and, at 2,200m, was lovely and cool in comparison to the heat experienced in Oaxaca. Cobbled streets, colonial architecture, churches, local markets and lots of shopping, bars and restaurants make it a popular stopping off point for many travellers and I can understand why. Casa Felipe Flores is a gem but if you want to be outside of the city in an old hacienda I would recommend Parador San Juan de Dios. A visit to the Church in San Juan Chumula is a must for anyone visiting San Cristobal – a unique and very moving experience and I am amazed that visitors are able to visit.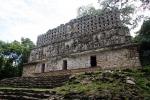 Yaxchilán
I don't think I have ever experienced quite as many speed bumps as there were on the twisty road to Palenque but it was a lovely journey passing through small villages, pine forests and farmland. En-route we stopped at the archeological site Tonina - we were the only people there which made them particularly special, they more than lived up to my expectations and were definitely worth the short detour. There are 7 platforms, it is 71m from the main plaza to the top up tiny steep steps but worth it for the view. Quinta Chanabnal was a great new find for us in Palenque and the ruins, set in jungle, are very impressive. However, the long (13 hour roundtrip), excursion to Bonampak and Yaxchilán were a highlight, even though it was over 40 degrees! Bonampak (means painted walls) is famous for its frescoes in the Templo de las Pinturas and there are some wonderful stelae. Yaxchilán on the Usumacinta River, and bordering Guatemala, is only accessible by boat - we felt like real explorers, there was no-one else around, The Temple of the Murals was amazing and the view from the top of the main temple worth the climb.
Haciendas and the Yucatan Pensinsula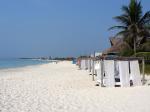 Beach at Esencia
Leaving Chiapas it was on to the Yucatan Peninsula for some hacienda hopping before finally arriving to the Riviera Maya for some time on the beach. This section of the trip makes an excellent holiday in its own right if time is more limited. Mérida is an interesting city, there are some wonderful haciendas in the region, and many fascinating archeological sites including Uxmal and famous Chichen Itzá. A couple of my favourite haciendas were Hacienda Uayamon and Hacienda Santa Rosa both with lots of history, beautiful grounds and excellent food.
The Riviera Maya now has many hotels but it's a beautiful coastline with wonderful beaches. I was lucky enough to have a night in both Maroma and Esencia, which both continue to be favourites but the Ana y Jose and be Tulum, in Tulum, are both excellent alternatives for those on more of a budget and wanting to be less isolated. Other great finds, particularly if you are looking for somewhere to spend time with a group of friends, were the private villas I visited, either Villa Xpu-Ha or, for somewhere more remote, Casa Nulum.
Overall an excellent trip with plenty more still to explore. Mexico has something for everyone - definitely recommended.