I was very lucky to be invited on a last minute trip to Mexico at the end of January. I know a fair bit of Mexico, having spent time living there, but Baja California had remained elusive so was certainly on my wish list of places to visit.
After a very comfortable flight on AeroMexico's new Dreamliner, we had around 30 hours in Mexico City, highlights of which included visiting a new Chocolate Museum (highly recommended) and a return to the canals of Xochimilco (the last time I had been must have been around 20 years ago!). This was a Saturday and the canals and boats were packed with families, couples and young people.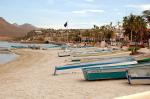 La Paz
We then hopped on a 2 hour flight to Los Cabos. Los Cabos is the collective name for Cabo San Lucas and San José del Cabo. Between the two 'Cabos' is the 'corridor' where you find most hotels. Cabo San Lucas is to the west, near the famous rock arch and has a good marina and a vast array of restaurants. San José del Cabo is to the east and is smaller and more traditionally Mexican.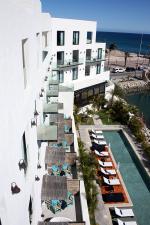 El Ganzo
Following the devastation of hurricane Odile in 2014, Los Cabos has seen a lot of renovation work, transforming and updating existing properties as well as investment into many new hotels. We stayed at the new (opened November 2015) The Cape by Thompson hotels, a 140-room oceanfront hotel with wonderful views out to sea (we could see whales breaching) and of the iconic El Arco.
We also spent a night at the trendy El Ganzo hotel by the marina in San José. There are 69 rooms including 4 huge suites. Guest artists are invited to stay at the hotel and create artwork within the propert. Musicians are also invited and record in the basement recording studio.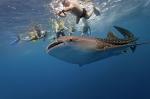 A whale shark
January is a great time to visit the peninsula for whale watching and we took a boat trip from Los Cabos in search of humpbacks. We were lucky enough to see two or three a number of times, mostly a wave of fins but we did get a tail as we left.
We also went on a day trip to La Paz (around 2½ hours away). Here I ticked an item off my bucket list - snorkelling with whale sharks. Only a short distance into the bay were many whale sharks (their season is November to April) and we were able to snorkel (fast!) alongside a few of them.
I loved the area and feel extremely lucky to have visited during the whale watching season. The peninsula is a wonderful area to explore independently and off the back of this I have put together a new itinerary talking in the main whale watching areas Baja Whale adventure.
Next to tick off my bucket list is snorkelling/diving with manatees, I think I'll have to go to Belize for that...!