We would like to thank you for all the positive feedback following our first newsletter, sent in April. As promised we are back again with some news and updates from the travels of the Last Frontiers team, the Latin American specialists.

In this edition:
News from Last Frontiers
Fishing
Trekking trips in Torres del Paine
Adventure trips in Peru
Photo Trips update
Galapagos yacht update
News from Last Frontiers
Latin America has avoided the recent world problems and continues to gain in popularity. All the yachts in the Galapagos are completely sold out for Christmas 2003, nearly so for 2004, and Peru remains our most popular first destination for visitors to Latin America. Belize is also currently very sought after, perhaps partly as a result of the BBC Holiday programme we organised, and which was accompanied by Tracy. It is to be featured again on a Holiday special (The Ten Best Holidays) in the Autumn.
Fishing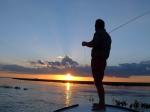 Sunset on the Iberá
South America has some of the best fishing in the world and we're proud to announce we have just produced a dedicated fishing brochure which was launched at the CLA Game Fair in July. If would like us to send you a copy do call or send us an email.

We still have a few spaces available on a fishing trip to Argentina, led by UK APGAI guide Gary Champion from 8-21 December 2003. The trip will spend 3 days in the Iberá marshes (dorado) and a week at Bella Vista Lodge, on the Rio Gallegos (sea trout). Please contact us for the full itinerary.
Peru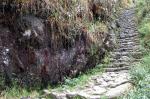 Steps on the Inca trail
We have some last minute availability on an adventure trip in Peru. Peru Explorer visits the highlights of Peru - take a boat trip on Lake Titicaca, watch the condors in the Colca Canyon and trek the 4 day Inca Trail to Machu Picchu - next date is 6-21 September 2003 and cost is GBP1,495 plus international flights. Other trips we offer for those seeking a bit of adventure are Inca Explorer combining the Inca Trail with a 4 day raft trip along the Apurimac canyon and Multi-Activity trips with the Inca Trail, rafting, mountain biking in the Andes and a visit to the Amazon. There are regular group departures from April to December (including a special Christmas trip) with prices from GBP1,350 plus international flights, so contact us with your preferred trip or dates of travel.
Last Frontiers' Photo Trips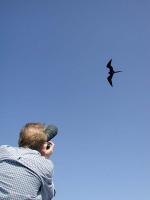 Capturing a magnificent frigatebird
This year in April and May we ran 3 very successful photographic trips to Ecuador and the Galapagos. The first was our annual trip with Bob Moore HonFRPS, accompanied by Simon, on board the yacht Beluga; and two were led by Peter Noble ARPS, the Chairman of the RPS Travel Group, on Angelito.

As well as spending a week cruising the incredible and unique Galapagos Islands which proved as enchanting as ever, the groups also visited the spectacular Ecuadorian highlands around Quito. Tens of thousands of images were taken, both film and digital and in order to show off the results we'll be running a photographic competition. This will consist of an online gallery and we hope, an exhibition - details to follow.

Future trips...
Due to the success of this year's trip, Peter Noble will be running another Galapagos Photo trip next year, again visiting the Ecuadorian highlands and spending a week aboard Angelito. We are also finalising details for a photographic trip to Antarctica, probably in November 2004. Space will be strictly limited and both of these trips will fill up quickly, so if you are interested do let us know now so we can send you the final itineraries when they are available.

Location for the next Bob Moore trip (late 2004) is still being discussed. Amongst the contenders are Argentine Patagonia and Brazil. We'll let you know as soon as we do!

We have a few spaces left on our next photo trip to Chile, led by David Wood. Highlights include the Atacama Desert, the wild southern highway and the spectacular Torres del Paine. Dates for the trip are 27 November - 15 December 2003. Price: GBP2,889 per person.
Last Frontiers on tour..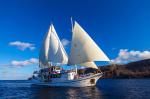 Cachalote
Recent travels to Ecuador by three of our team means that we have checked out a large number of yachts in the Galapagos Islands. As all the yachts met Last Frontiers' high standards we will be offering them in the future.

Ed Miles was aboard Cachalote, a wooden 95 foot, twin-masted sailing yacht with 7 air-conditioned double cabins. 'The food was excellent, the guide (a budding rock star with CD's to his name) extremely knowledgeable and the overall experience was wonderful (despite getting very burnt and putting on a lot of weight...)! I also checked out KLM's new stopover, Bonaire in the Dutch Caribbean. It is known as one of the best dive sites in the world but despite the lack of white sandy beaches, even if you do not dive or snorkel, it is a great place for some relaxation before or after a visit to Ecuador or Peru.'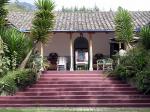 Hacienda Cusin
Rose visited Ecuador and the Galapagos Islands with her mum. 'Our favourite place on the mainland was Hacienda Cusin in the north near the bustling market town of Otavalo. It offered peace and tranquillity and has beautiful gardens with an abundance of plants, flowers, an exceptional vegetable patch and over 50 species of birds. A real highlight whilst we were there was a 3-hour walk through the fields and villages close to the hacienda.

We then took a Galapagos Cruise aboard a small, luxury cruise ship Isabela II, which caters for 40 passengers, has just been re-fitted and is extremely comfortable. The crew were very professional and the naturalist guides were experienced and enthusiastic and passionate about the islands. There was a real emphasis on education and evening lectures were held to teach you more about the delicate eco-system of the islands.'

Selecting a yacht for your trip is often a puzzling process as there are so many to choose from - ranging from small 8 person sailing yachts to large 90 person cruise ships. The team at Last Frontiers have been on virtually all the yachts we offer and are more than happy to discuss the merits of each.

It is this sort of first hand experience of the hotels and yachts we offer (all over South America) that allow us to customise each trip for every client and ensure you have the best holiday possible!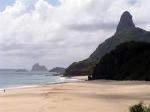 Fernando de Noronha
Edward has just got back from a family holiday in Brazil, where he visited Fernando de Noronha, Natal, Petropolis, Bonito (south of the Pantanal, where you can snorkel down crystal-clear rivers amongst the fish) and Iguassu.

Next travels for the team include Jill visiting Peru, Sue riding in Ecuador, Ed visiting the Amazon and Tracy going to Chile - watch out for the next update to find out what we got up to!
With best wishes from Edward, Simon, Rose, Tracy, Sue, Ed and Jill

This message has been sent to all of our subscribers.