Welcome to an early summer update from Last Frontiers (into which we have interspersed a few comments from recent clients). In this issue:
Lizzy in Panama and Costa Rica
Rebecca in Uruguay
Sue sees a jaguar in Guyana
Special offers
A date for your diary
News from the office
Panama and Costa Rica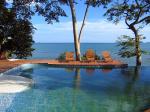 Cala Mia
Lizzy was in Panama, where she loved exploring the San Blas islands (on the Caribbean coast) by sailboat and many more areas of this relatively undiscovered country. In contrast with its more popular neighbour Costa Rica, Panama still avoids the crowds and visitors can get a feeling for the true country and its people. Whilst service may not be up there yet with Costa Rica, its wildlife certainly rivals that of its neighbour, there are many beach options both on the Pacific and Caribbean coasts and the two countries actually combine very well. Lizzy particularly loved Cala Mia, a lovely rustic-style hotel on an island in the Pacific. Panama is an increasingly popular choice with our clients, with much to tempt visitors.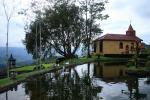 View from Hacienda Tayutic
New discoveries in Costa Rica included Le Caméléon hotel on Costa Rica's Caribbean coast. Opened just last month the hotel is a modern escape near the hippy town of Puerto Viejo. Also, for a very comfortable hacienda experience then Lizzy particularly liked Hacienda Tayutic in Turrialba province, only a couple of hours from San José. There are just 6 rooms, all beautifully decorated and the main building and gardens have stunning views over the surrounding countryside. Guests can learn about the coffee, macadamia and sugar cane that is grown on the estate with its owner Felipe Ortuño.
If you would like to discuss anything do get in touch with Lizzy who would be happy to share her thoughts. Here is part of a recent client's feedback:
This is a beautiful country, full of wonder and fabulous sites. If you want some adventure, a variety of experiences, fabulous wildlife and to meet very friendly people our advice is: learn Spanish, advanced solar and stellar navigation, a bit of biology, and come to Costa Rica!
Uruguay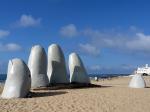 Fingers in the sand
In March, Rebecca covered the length and breadth of Uruguay in just under two weeks. Nestled discreetly in between its boisterous neighbours of Argentina and Brazil, Uruguay is an elegant, unfussy country which retains many old European traditions - the afternoon high teas are particularly moreish! The capital Montevideo and the charming, colonial town of Colonia with cobbled streets and shady plazas are both easily reached by ferry from Buenos Aires. In more rural areas to the north are some excellent estancias with good hosts, food and riding too. Along the coast heading east are where the fine beaches start and continue all the way to Brazil; the laid back fishing village of José Ignacio with chic posadas (look at Posada del Faro) and its old lighthouse is just idyllic!
We had the most super time, everything was excellent. The Winners' Parade at Rio Carnival was just beyond belief, we loved that whole experience. Highlights in Argentina included a sensational lunch at Las Balsas hotel in the Lake District, and the Alvear Palace in Buenos Aires must rank as one of the best hotels in the world. The Four Seasons in Uruguay was a perfect place to start the holiday. Thanks for all your care, everything worked like clock-work.
Brazil, Argentina and Uruguay was a fantastic trip. All the travel arrangements worked extremely well and I would not hesitate to recommend Last Frontiers to others wanting to travel in Latin America.
There was no way that it would have been possible for us to arrange anything on our own, we simply did not have the knowledge and you had so much. It was a once in a lifetime trip and we want to do it again!!!
Guyana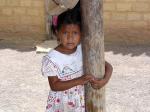 Child of the Rupununi
Sue has longed to go to Guyana ever since she saw the BBC 'Lost Land of the Jaguar' series last year, and her recent trip more than fulfilled even her high expectations. The accommodation is simple and road conditions can be bumpy but flying over the open savanna, virgin rainforest and meandering rivers easily makes up for that. Highlights were the impressive Kaieteur falls, spending time at the school with the children in the friendly little village of Surama and an evening boat trip from Caiman House to learn about their black caiman project. She was also very lucky and saw a harpy eagle, cock-of-the-rock and even the elusive jaguar.
It was the holiday of a lifetime. Kaieteur Falls were magnificent and our visit to the Canopy Walkway was spectacular. However, the time at Karanambu stood out - we were welcomed and treated as one of the family. Even so far from civilisation, Diane serves coffee in demi-tasse.
Special Offers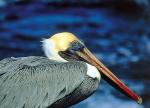 Brown pelican in the Galapagos
Galapagos - several vessels have some excellent offers on selected departures this summer for both individuals and families. We update these on our web site every couple of weeks, so do keep an eye on our special offers pages.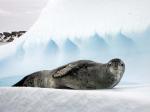 Weddell seal in Antarctica
Antarctica - 20% discount on all cabin types on board Plancius for her inaugural sailings from January to March 2010. She is a new and comfortable ship carrying 110 passengers. All cabins have private bathrooms.
Date for your diary
We will be in Edinburgh on 7 September and Glasgow on the 8th for two joint events with our friends at Seven Wonders. Do let us know if you might be interested in attending and we will send you further details nearer the time.
Office news
Only a few months to go now until our new office is ready! The rainwater harvesting tanks arrived today and windows are now in. The fight for who sits where has begun..
With best wishes from us all
Edward and the team
---
Last Frontiers Limited
Email: info@lastfrontiers.com
Web: www.lastfrontiers.com
Tel: 01296-653000