Welcome to the first newsletter from Last Frontiers, the Latin America specialists!
In this edition:
News from Last Frontiers
Antarctica
Belize (BBC Holiday 20 April)
Fishing in Argentina
Chile (riding)
Galapagos
Venezuela
News from Last Frontiers
The last year has been a busy one for us. Two new recruits have joined the team: Ed Miles, who lived on the island of Chiloé in Chile for several years, and Jill Forgham, a past client who has recently moved back to the UK from Venezuela. See the About section of our website for more details.

We are also very grateful for all the feedback and encouragement we continue to receive from you (see www.lastfrontiers.com/about-us/client-feedback).

Latin America continues to gain in popularity, no doubt partly because of the problems in other corners of the world, but also because of the increased awareness of all the wonders that the region has to offer.
Antarctica
First iceberg..
In February Sue was aboard the M/V Orlova on a 12 day 'Classic Antarctica' cruise operated by Quark Expeditions: 'It was the most fantastic experience. The ship, food and crew were excellent and life on board was informal, educational and well organised. The Expedition Staff were all specialists in their chosen field, very knowledgeable and professional. Lectures/slide presentations from the Naturalist, Biologist, Geologist, Historian & Ornithologist all enhanced the trip and the scenery and wildlife were out of this world. The Drake Passage is renowned for its rough seas - although we experienced an exceptionally calm crossing outbound it lived up to its expectations on the return! The wildlife was wonderful and February an excellent time of year to visit - lots and lots of penguins (Gentoos, Adelies, Chinstraps and King), which occur in rookeries ranging from a few pairs to many thousands. We also saw seals (Fur seals, Weddell seals and Leopard seals), whales (Humpbacks and Minkes) and other birds including Albatross, Blue Eyed Shags, Kelp Gulls, Cape Petrels, Skuas, Snowy Sheathbills and Antarctic Terns. The awe-inspiring scenery of mountains, snow and ice surrounded us and there was a special magic of wilderness in the region. The area is also of historical interest and it was great to have the opportunity to meet scientists working at the research stations. What can I say - if you enjoy outstanding scenery, have an interest in wildlife and a sense of adventure then you cannot fail to enjoy an Antarctic Experience.'
Belize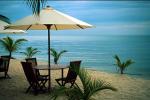 Turtle Inn
Tracy has been in Belize, helping the BBC film for their Holiday programme, which is scheduled for broadcast on Easter Sunday (20 April) at 4.25pm on BBC1. Francis Ford Coppola's beach front hotel in Placencia, Turtle Inn, has just re-opened after being devastated by a hurricane in 2001. It is a beautiful hotel and the rooms have been exquisitely designed with goods from Thailand and Bali. Placencia is a very laid back place on the south coast of Belize and offers good snorkelling and diving, or equally it's a great place just to relax at the end of your trip. The BBC also visited the jungle lodge of Chaa Creek, where they were lucky enough to get an interview with Cameron Diaz!
Fishing in Argentina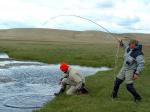 The Gallegos Chico
Edward is just back from Argentina where he visited estancias in Córdoba (lovely riding), the Lake District and Tierra del Fuego. Argentina now offers fantastic value after devaluation. We are very pleased that we are now able to offer sea trout fishing in Tierra del Fuego (a lovely new lodge on the Rio Grande) and on the Rio Gallegos at Estancia Bella Vista.

In early December 2003 we will be organising a fishing trip led by UK APGAI guide Gary Champion, with 3 days in the Iberá marshes (dorado) and a week at Bella Vista. Please ask Edward or Sue for more details, or Gary will be at Chatsworth on 17-18 April or at the Game Fair, where he runs the casting clinics, from 1-3 August. This year the Fair is at Harewood House, Yorkshire, and Last Frontiers will have a stand.
The Galapagos Islands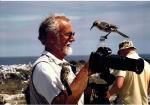 A curious mocking bird
We have 3 photographic groups on their way to the Galapagos in the new few weeks - two from the RPS (Royal Photographical Society) and our annual trip with Bob Moore HonFRPS. While the Galapagos is a year-round destination this is a particularly good time to go weather-wise.

With the slow-down in world travel there are plenty of last-minute offers to the Galapagos, offering a chance to experience what is normally an expensive destination at value-for-money prices.
Chile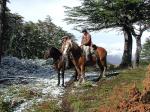 Riding in Torres del Paine
Our web site now has all the new dates for riding trips with Blue-Green Adventures, who offer wonderful riding (and trekking/canoeing) tours in and around the Torres del Paine National Park.
Venezuela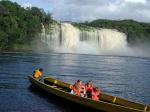 Paine family in Canaima
Four members of the team have visited Venezuela in the last 6 months. Edward trekked through the Gran Sabana with his family, including an overland trip to Canaima (jumping-off point for the Angel Falls) which the children loved – particularly when they had to help rebuild several bridges. Simon took a canoe up the Caura river to the remote Pará Falls and dived in Los Roques. Sue stayed at our new 'find' in Margarita, Casa Chiara, and did the Angel Falls river trip. Jill was packing her bags. Things are now back to normal after the General Strike in December and we are again very happy to recommend this very varied destination.
We hope that you have found this update useful - if you have any subjects you want covered in future issues (probably quarterly) please let us know!

With best wishes from Edward, Simon, Rose, Tracy, Sue, Ed and Jill

----------------
Last Frontiers Limited