Though I had been to Ecuador before, the Galapagos Islands had been a stretch too far for my backpacker budget, so when I was offered the chance to go on this trip I couldn't have been more thrilled. It is often said that visiting the Galapagos is a once-in-a-lifetime experience and now that I've been, I hope more than ever that this isn't the case for me! The entire archipelago is incredibly captivating and bursting with life both above and below the water. You can be in the ocean face-to-face with a sea lion or a turtle one minute, then following in the footsteps of a giant tortoise the next. It is no wonder that this was the very place that inspired Darwin's ground-breaking theories.
Planning a trip to somewhere so unique can be a bit of a challenge, and for many prospective visitors the initial question that arises is whether to explore the islands by land or sea. Hopefully this article will help to highlight the benefits of each, but if time (and money) permits then a combination of both is undoubtedly the superlative choice! Whichever route is chosen, a stay of at least 7 nights is recommended, especially given that the first and last days are predominantly spent travelling.
Cruising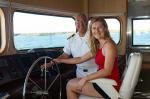 Hannah on the bridge, Origin, Galapagos
The great thing about cruising is that you cover a lot of ground without even realising it, and can reach the far-flung places that most land-based stays can't. For example, some of the most interesting islands such as Española, Genovesa and Fernandina are not accessible to land-based guests and yet they have the most diverse range of species and some of the largest colonies of sea birds in the archipelago. Aside from this, one of the main highlights of cruising is that you get to experience the joy of waking up each morning with a fresh view on the horizon and a new site just waiting to be explored - with the added bonus of not having to pack and unpack at different hotels!
I know that for some people the word 'cruise' will immediately induce a certain level of hesitation for fear of suffering from seasickness, but a Galapagos cruise is an 'expedition' voyage and a lot of time is actually spent on land or swimming in the water. The majority of sailing takes place at night and usually lasts no longer than 2-4 hours.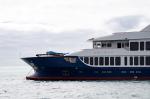 Origin, Galapagos Islands
Assuming that you opt for a cruise, the next stage of the planning is to decide on the size of boat, and whether there are any specific sites or species that you'd like to see. The authorised vessels have a capacity of between 14-100 passengers (the maximum permitted) and an obvious advantage of a small boat is that less time is spent embarking and disembarking, so you will get more time ashore. The guide to passenger ratio is also a consideration, although regardless of size all ships must provide 1 guide to a maximum of 16 passengers. Cruise itineraries are controlled by the National Park to regulate the number of visitors at each site, and the majority of ships will anchor twice a day for excursions, which consist of a mixture of land and water-based activities. Hiking and snorkelling are included in all itineraries, but some boats also carry kayaks, paddle-boards and glass-bottom boats.
One thing to bear in mind is that most vessels have a minimum age policy, of 5 or 6 years of age, so a cruise may not be a plausible option for young families.
Land-based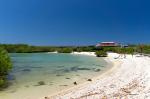 Beach in front of Finch Bay Hotel, Puerto Ayora
Those particularly prone to seasickness may be better suited to a land-based stay, although it is virtually impossible to avoid the water completely! Even land-based tours involve boat journeys to reach designated landing sites, and these journeys are made in smaller boats that are inevitably more susceptible to turbulence. You do however get to sleep on dry land and follow a more flexible itinerary, so this is often a great choice for those with young children.
Hotels, of varying standards, can be found on the four inhabited islands: Santa Cruz, San Cristóbal, Isabela and Floreana. To get the most from any land-based itinerary, I would recommend combining a stay on at least two islands so you can access a wider geographical area of visitor sites. Ask us which islands can be reached on a day trip and also which sites allow access to day visitors, as there are certain sites that only permit yacht visitors.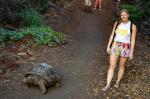 Strolling next to a giant tortoise, Isabela Island
There are of course plenty of things to keep you busy on land if boats really are a no-go, and certain islands lend themselves to this sort of stay more than others. Isabela Island for example, which is the largest in the archipelago but one of the least developed, has a volcano, a tortoise breeding centre, wetlands, highlands and a long stretch of white sand beach to explore. Santa Cruz, which is home to the bustling town and capital of the islands Puerto Ayora, also has an area of highlands, the Charles Darwin Research Station, and Tortuga Bay (often cited as the most beautiful beach in the archipelago). I think it is fair to say that boredom won't be a problem!
The verdict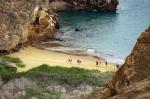 Vistors at Punta Pitt
Cruising is best for:
Those who want to follow in Darwin's footsteps and reach the remote and far-flung islands
A greater overview, by covering more ground
A wider variety of species, some of which can only be seen by cruising
Disconnecting from the wider world and immersing yourself in nature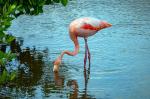 Flamingo at the wetlands on Isabela Island
Land-based is best for:
Families with young children who may be too young for a cruise, or those who want extra space for the children to run around
People who want more flexibility (and independence) in their itinerary
Budget-conscious travellers
Those who struggle to sleep with the motion of a boat
Have a look at the following links for sample itineraries using either of the above options, and a list of our favourite Galapagos yachts:
www.lastfrontiers.com/galapagos/itineraries