Bravely risking the hurricane season in search of some September sunshine and culture, I headed off to Mexico. The itinerary was of course action-packed. Time afforded me just one night in Mexico City, in the lovely, upmarket district of Polanco, before I boarded a short flight south-east to Tuxtla Gutiérrez in Chiapas where our trip began.
Chiapas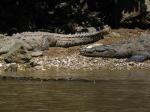 Crocodiles in the Sumidero canyon
We started in the pretty, colonial town of Chiapa de Corzo, the departure point for boat trips through the 1,000 metre deep Sumidero canyon. Until just over thirty years ago the canyon was impassable, but since the completion of the Chicoasén dam in 1981, this spectacular canyon has become a long thin reservoir - best explored by high speed boat. Interesting rock formations, waterfalls, kingfishers, herons and vultures, as well as five or six crocodiles from quite close range were among the top spots.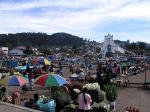 San Juan Chamula
We continued by road to San Cristóbal de las Casas - a charming, bohemian city, impeccably placed in the fertile Jovel valley, giving it a scenic, mountainous backdrop and perfect, mild climate. Tzotzil and Tzetal Indians brighten the streets with their colourful outfits, and their mysterious villages surround the city. Using chic new Hotel Bö as our base in the city centre, we visited the local towns of San Juan Chamula and Zinacantán. The former is famous for its unique church, from outside appearance traditional Catholic building but actually still strongly upholding indigenous beliefs and rituals: amongst the scattered pine needles and offerings of fizzy pop we watched a live chicken being sacrificed! In nearby Zinacantán we stopped for a simple but hearty local lunch (rounds of quesadillas and empanadas washed down with cerveza and a sampling of posh) at the home of classic back-strap loom weaver Antonia.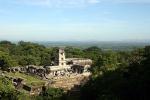 Palenque
Leaving San Cristóbal behind we headed west on a twisting road to Palenque, from the misty highlands down to the steamy jungle, stopping en route at the lesser-visited Maya site of Toniná, which has a remarkable underground labyrinth and one of the most well developed central temple complexes of the Maya civilization. We enjoyed a second brief stop at Misol Ha, an impressive single-jump waterfall for photo opportunities, lamenting the fact that time did not stretch to a refreshing dip. After a night spent close to the site we visited Palenque early to avoid the burning midday sun and other tourists. This was an important power centre during the height of Maya civilization, the architecturally brilliant complex sits beautifully in the emerald green jungle – definitely one not to miss.
Campeche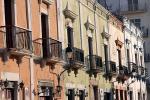 Campeche
Onwards to the city of Campeche which was a rich and important port during the colonial period and has kept its outer walls and system of fortifications. After Mexico's independence the town went into decline but following the discovery of oil offshore in the seventies, Campeche has made a dramatic comeback to her former glory. Now a UNESCO World Heritage Site, the streets are beautifully maintained and astonishingly clean. Hints of the French influences from their interventions in this area can be seen in many of the restored buildings. In Campeche we indulged in our first stay in one of the elegant, colonial ex-sisal haciendas which are dotted throughout the area.
Yucatán Peninsula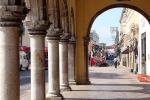 Mérida
From Campeche it is only a couple of hours to Mérida, the capital of the Yucatán state and its colonial heart. With two nights in the city we were able to sample two of the finest boutique hotel options, the luxurious Casa Azul and friendly Casa Lecanda, both wonderful, family-run properties. Mérida is a bustling town in which the old mixes with the new and colonial buildings line up along long avenues in various states of (dis)repair; the grandest of which, Pasejo de Montejo, is a sort of mock Champs Elysées-style boulevard. We enjoyed an evening potter around the shady zócalo which is home to the oldest cathedral in Latin America. The following morning we were up bright and early off to Uxmal, an ancient Maya city of the classical period and a good representative of the dominating architecture with ornate friezes.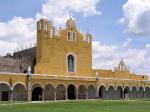 Izamal
Just over an hour from Mérida, heading east towards Chichén Itzá, we stopped in the small town of Izamal. The picturesque plaza is dominated by the mustard-yellow Convent of San Antonio de Paduas which we visited before continuing to Chichén Itzá. We arrived just in time for an afternoon plunge in Ik Kil cenote, one of a series of underground sinkholes found throughout the peninsula and once the only fresh water source in the local Yucatecan jungle. The sacred cenotes played an important role in Maya life and rituals and make revitalizing natural swimming pools.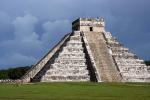 Chichén Itzá
Chichén Itzá was surprisingly and almost eerily quiet first thing, considering its popularity - no small thanks to its newly found status as one of the New 7 Wonders of the World. Chichén Itzá was one of the largest Maya cities and is spectacular. It is dominated by its most iconic image, El Castillo, a giant stepped pyramid upon which twice a year, on the spring and autumn equinoxes, a shadow falls in the shape of a serpent. The Great Ball Court is gigantic - the largest and best-preserved ball court in ancient Mesoamerica, spectacular!
The coast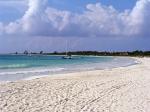 Beach at Maroma
Chichén Itzá conveniently falls about half way between Mérida and the Caribbean coast so as our journey drew to a close we of course headed straight for the beach. The only real problem with Mexican beaches is choosing which one! Miles of sugar-white sand and crystal clear turquoise waters stretch south down the Riviera Maya from Cancún. Luckily we got a taste of it all, from the relaxed, laid-back Isla Holbox, some wonderful classic options in quieter spots on the Riviera Maya to the buzzier Tulum; from a secluded villa in the Sian Ka'an Biosphere to the more sprawling urban spring-break-tastic chaos of Cancún.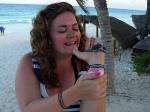 Baby green turtle
It was a trip which exceeded all expectations. The perfect blend of culture, both ancient and current, wildlife, beach and cuisine (the food has barely had a mention), fell nothing short of exquisite! We swam with whale sharks, watched a green turtle crawl onto the beach at night to lay her eggs and released baby turtles out to sea, to name but a few of my personal highlights. It was with a heavy heart and about 10lbs extra in both luggage and body weight that I boarded the direct flight home from Cancún!