Here is a selection of books we recommend relating to Chile:
This Thing of Darkness - Harry Thompson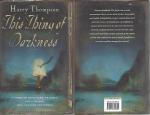 This Thing of Darkness
Although described by the author as a novel, this engrossing book is based closely on the voyages of Robert FitzRoy (the first of which set sail for Tierra del Fuego in 1828).
FitzRoy was one of the most talented and promising naval officers of his generation, and on his second voyage, on the Beagle, took with him a young naturalist called Charles Darwin. The voyage of the Beagle forms an important part of the book, but other events, such as FitzRoy's attempt to 'civilise' the inhabitants of Tierra del Fuego by introducing three of them to nineteenth century London society, or the Argentine native extermination campaign by General Rosas, bring the narrative and history alive.
The relationship between the two main protagonists: FitzRoy as a staunch Christian and manic depressive, and Darwin as a sound friend whose agile mind cannot resist the evidence for evolution - a theory that had just been introduced - is a thread running through the whole book. Highly recommended, very readable.
My Invented Country - Isabel Allende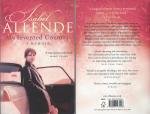 My Invented Country
A memoir which explores the events of the author's life in Chile until the early 1970's, when her father's cousin, President Salvador Allende, was assasinated in Pinochet's military coup. Believing it was too dangerous to stay in Chile, Allende, her husband and their two children fled to Venezuela where she began writing her first novel.
Rebellious and passionate, a feminist long before she knew what feminism was, her love for (and sometimes exasperation with) Chile informs every line. Her experiences make for unforgettable, often hilarious reading that no admirer of Allende's writing will want to miss.
Travels in a Thin Country - Sarah Wheeler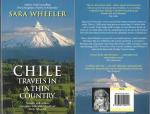 Travels in a Thin Country
A tale of travel through Chile from north to south. Squeezed in between a vast ocean and the longest mountain range on earth, Chile is 2,600 miles long and never more than 110 miles wide - not a country which lends itself to maps, as Sara Wheeler found out when she travelled alone with two carpetbags from the top to the bottom, form the driest desert in the world to the sepulchral wastes of Antarctica.
The Motorcycle Diaries - Che Guevara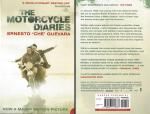 The Motorcycle Diaries
Written eight years before the Cuban revolution and published in 1995, the motorocycle diaries is a memoir documenting 23-year-old Enesto 'Che' Guevara's travels across South America in 1952. Che and his friend left Buenos Aires in January on a nine month road trip taking them through Argentina, Chile, Peru, Colombia and Venezuela. Now also an oscar-winning film.
Other books worth checking out are:
Saddled With Darwin - Toby Green: Following in the steps of Darwin, Toby Green rides through Uruguay, Argentina and Chile. An interesting journey for the remoteness of many places and the fascinating characters met along the way.
Chile Handbook or South American Handbook, Footprint Travel Guides
The House of Spirits -Isabel Allende: An epic tale of the social and political transformations of contemporary Chile seen through the eyes of four generations of the Trueba family. Funny, tragic, violent and at the same time magical, a true classic
Eight men and a Duck - Nick Thorpe: Engaging and well-written account of a reed boat journey from Chile to Easter Island.
Ines of My Soul - Isabel Allende: A vivid picture of the early Spanish conquest of Chile, through the eyes of a real character in history whose story has been lost since the 16th century. Inés was the mistress of Pedro de Valdivia and accompanied 110 conquistadors south from Cusco through the Atacama desert to found the city of Santiago. Using the first person narrative, the story is highly readable and engaging, set against a colourful backdrop of proud Inca rulers and fierce Mapuche Indians.
Lost Cowboys - Hank Wangford: A Victor Gollancz publication. Fascinating and amusingly-written search for the original cowboys from Argentina, through Chile and Venezuela, to Mexico and the Alamo.
Nowhere is a Place: Travels in Patagonia - Bruce Chatwin & Paul Theroux: Stunning photography of the Paine National Park.
The Old Patagonian Express - Paul Theroux: From Boston to Esquel by rail.
Aku Aku, The Secret of Easter Island - Thor Heyerdahl (1973)
A wildlife guide to Chile – Sharon R Chester (2008)
A companion to Easter Island – James Grant-Peterkin