Here is a selection of books we recommend relating to Brazil:
Brazil, Michael Palin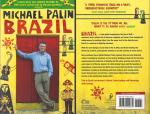 Michael Palin's Brazil
The book to accompany Michael Palin's BBC documentary series, this is his first venture into this vast country in the time of much social and economic change. He travels the entire length of the country from the Venezulan border in the north, down to the Uruguayan border and the mighty Iguacu falls.
Brazilian Adventure, Peter Fleming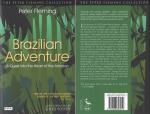 Brazilian Adventure
Written by the brother of Ian Fleming, who wrote the James Bond novels, Brazilian Adventure tells the story of Fleming's journey into the Brazilian jungle in search of the lost Colonel Percy Fawcett who disappeared whilst searching for the Lost City of Z in 1925.
Some other books worth looking out for are:
South American Handbook or Brazil Handbook, Footprints Travel Guides
Exploration Fawcett - Colonel P H Fawcett: An account of the expeditions undertaken by Colonel Percy Fawcett, who disappeared in the Mato Grosso region of Brazil in 1925. This book was arranged from his manuscripts by his son Brian Fawcett, and published by Hutchinson in 1953.
Death in Brazil - Peter Robb: A compelling journey from Brazil's early roots through to the social and political development leading up to the election of Lula in 2002. A true soap opera of power, curruption and greed!
Gerontius - James Hamilton-Paterson: This prize-winning novel describes a journey down the Amazon by composer Sir Edward Elgar, when he was in his 60s. It captures very well the melancholy and disillusionment of the years following the first world war and gives insight into what inspired and drove this great man, more vividly in novel format than perhaps a traditional biography might. Wonderful images of the Amazon are conjured up as he arrives into Manaus and experiences colonial life in this remote spot in the jungle at the turn of the century.
Pantanal Wildlife - Bradt or Amazon Highlights - Bradt
Gabriela, Clove & Cinnamon - Jorge Amado: A wonderfully vivid book by one of Brazil's greatest living writers. Set in the Bahian city of Ilheus in 1925, a novel saturated in colourful characters and exploring the forces which shaped the city and the north-east of Brazil generally.
The war of the end of the world - Mario Vargas Llosa: A classic tale of the bloody fall of Canudos; a community of drifters, bandits and pilgrims who had abandoned their villages to set up a utopian society deep in the desolate interior of Brazil's northeast.
Runing the Amazon - Joe Kane: A group's journey along the entire length of the Amazon where the challenge led to the break up of the team.
Dona Flor and her two husbands - Jorge Amado: Another riot of colour, humour, sex and fabulous food from arguably Brazil's finest writer.
The Lost World - Sir Arthur Conan Doyle: A classic tale of an expedition to the Amazon basin where the characters meet ape-men and prehistoric creatures.